Last year at BlizzCon 2018, Blizzard disappointed a large part of its community by announcing Diablo Immortal, a mobile game only. Apparently the company wants to amend this error now, since there are rumors which ensure that they will announce Diablo 4, as well as a remastering of Diablo 2  at this years BlizzCon.
Metro_OW, an Overwatch player and Twitch streamer, shared this information through his Twitter account. In the tweet, he said sources mentioned that some of Blizzard's announcements at BlizzCon 2019 will be Diablo 4 and Diablo 2 Remastered. The reason why Metro_OW's words have echoed on various parts of the Internet, is that he previously leaked details about Ashe, Overwatch's heroine. Blizzard announced Ashe at BlizzCon 2018. So, it seems that this is a reliable source that knows the company's plans.
For anyone who cares, diablo 4 and diablo 2 remastered will also be announced. 🙂 #BlizzCon2019

— Metro (@Metro_OW) October 18, 2019
This tweet is not the only reason to believe that Diablo 4 could be real. A German store recently published a product page for a book called "The Art of Diablo". Blizzard is currently promoting the release of the book in various print magazines. The ad there says: "With over 500 artworks from Diablo I, Diablo II, Diablo III and Diablo IV, this book represents countless remarkable pieces of art...". The Art of Diablo will be available shortly after BlizzCon 2019. Also, remember that reliable sources in the past said that Blizzard was going to reveal this project last year, but they changed their mind at the last minute.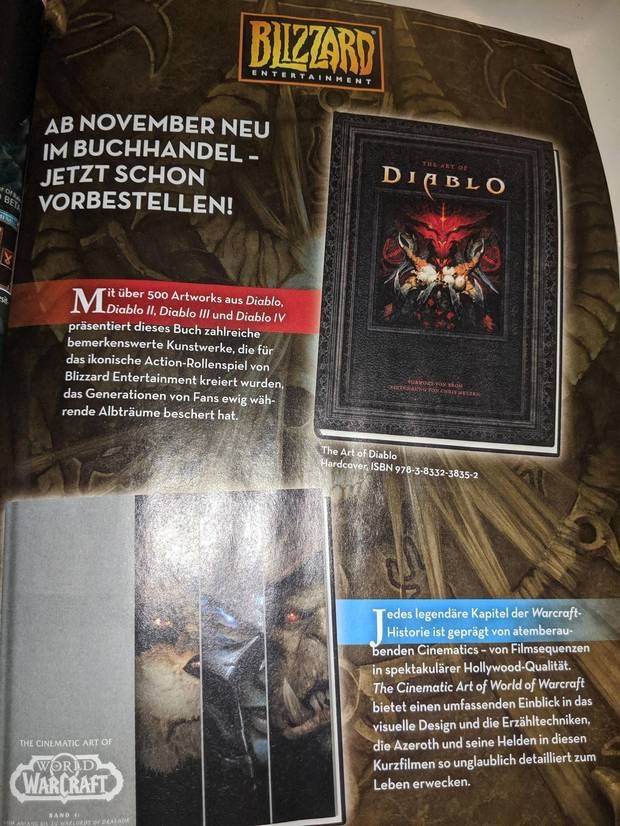 It is worth mentioning that this information is not official. So, you better take it for what it is: a rumor. In addition, there is very little time left for BlizzCon 2019, so it is just a matter of days when we know if there was any truth to this information or if everything was false. We will keep you updated as soon as we know more.
BlizzCon 2019 will take place on November 1st and 2nd at the Anaheim Convention Center in California, United States.