All the main gaming events are now done for the year. Each of them came with their own dose of Resident Evil goodness (thanks to Resident Evil Revelations and Operation Raccoon City), but none of them really housed an official announcement of Resident Evil 6.
It wasn't until San Diego Comic-Con that we directly received, via our forums, an image of Resident Evil 6's logo, along with a date of September 15th– a date which teased a big TGS 2011 reveal. Well, that all didn't really amount to anything. Though we did get an awesome fan-made video, which we thought was an official teaser for Resident Evil 6. Well, putting those disappointments aside, I'm here to tell you that this lack of an official Resident Evil 6 announcement is actually a good thing.
2011 was a good year for Resident Evil and its fans. Not only did the franchise celebrate its 15th anniversary, but fans also got a good amount of content to enjoy. From the summer's release of Resident Evil: The Mercenaries 3D, to the most recent releases: HD editions of Resident Evil 4 and CODE: Veronica X. Yeah, it's a good time to be a Resident Evil fan.
Mercenaries 3D, exclusive to the 3DS, allowed those who enjoyed Resident Evil 4 and 5's post-game Mercenaries modes to engage in said mode turned full game, one with a roster full of fan-favorite characters, minus Leon. You had maps taken from both Resident Evil 4 and 5's respective Mercenaries modes. But still, fans were quite upset that Leon, and even Ada, got no love. Well, one can't argue that the game, while not being a traditional horror entry, still offered a very fun and satisfying experience. And it became quite addicting trying to best one's own high score and take the "war on horror" online. It's also worth noting how the game also housed a demo for next year's Resident Evil Revelations. (And it's worth forgetting about the inability to delete one's saved game data…just because.)
Then you had the HD editions of Resident Evil 4 and CODE: Veronica X which allowed fans to venture back to what is arguably the best game in the series (and one of the best games of all time) as well as the final main entry to sport the classic gameplay style, respectively. Yeah, these HD editions weren't exactly full-blown HD make-overs, but looking past that players will find two of the finest entries in the genre. And really, how convenient is it to have your console house both games without the need of a disc. (Though we still have some upset over the lack of a retail release here in the US, like Japan got with Biohazard Revival Selection.)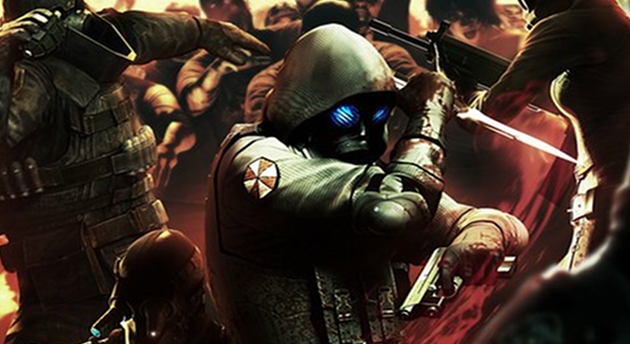 Not only that, but we also got a couple of games waiting in early 2012 that also got strong showings this year. Now this is where my main argument sprouts from. The mere fact that we already got two big games coming up early next year is enough for me to strongly believe that Resident Evil 6 not being announced is actually a good thing. But let's delve into both these games first, as they're both set to be big entries in the series, with one being a traditional experience and the other being another action-oriented one.
Resident Evil Revelations is the more traditional of the two, what with the return of confining corridors and being denied an abundance of ammunition and health supplies. Survival horror is the name of the game here, and thus far, Revelations is shaping up to be the game fans have been asking for since the after-effects of Resident Evil 5's launch. More importantly, though, is the notion that Revelations also represents an approach Capcom could take with Resident Evil 6. The other side of this equation comes with this Winter's Operation Raccoon City.
Slant Six is trying their hand at the Resident Evil franchise with the release of their squad-based shooter set within the events of Resident Evil 2 and 3, Operation Raccoon City. If you were enamored with the aciton-heavy approach taken with Resident Evil 5 then you're definitely going to dig this. But survival horror purists should also be quite excited about this as well. Because quite simply, Operation Raccoon City may be more about balls to the wall shooting than any entry before it, but with that boost in ammunition and weaponry also comes a boost in enemies to do battle with. And one need not look very far to see this realized.
As we've already seen in the "Kill Leon" demo time and time again, the game really does throw hordes of BOWs at you. Whether they be classic zombies, Lickers, or even Hunters, Slant Six continuously overwhelms the player with many creatures to shoot. So, in the end, the experience will be very comparable to a classic entry in the series in that there will be moments where you'll find yourself running low on ammo or health supplies, because of there being so many BOWs to contend with. As it was nicely put at NY Comic-Con 2011's Resident Evil panel by Capcom: Resident Evil: Operation Raccoon City presents survival horror taken to the next level. And hell, I couldn't be more excited about this game.
So, why shouldn't we be upset about Resident Evil 6 not getting announced so far? Well, as was already described above, we have a wealth of content to enjoy and look forward to as is. Two HD editions of two classic entries in the series and a 3DS exclusive that brings together beloved characters (minus Leon) are the newest offerings fans could enjoy this year. Then we got Revelations and Operation Raccoon City waiting to be released in early 2012 (with Revelations already having a firm date of February 7). So, yeah, it's not like we have a lack of Resident Evil content to enjoy. It's quite the contrary.
Yeah, it would be nice to see Resident Evil 6 announced, but when you think about it, it'll turn out being the one game at the top of every fan's list, which isn't to say that would be a bad thing. But this would then lead to fans possibly neglecting and not paying much mind to both Revelations and Operation Raccoon City as far as excitement and anticipation goes. Everyone would just be busy salivating over the next main numbered entry, and they'll start losing hype for the games we already got coming in the near future.
From a business perspective, announcing Resident Evil 6 wouldn't be a wise decision by Capcom. The company most definitely wants fans to be beyond excited for both Revelations and Operation Raccoon City so that both those games perform well in sales and critical acclaim, so that may be the reason why they're holding back on an official Resident Evil 6 announcement at this time. Maybe once both those games hit, it'll be a different story, but as of right now, Capcom is making the wisest move they could possibly make. (But hell, who am I to even say something like that, I'm just a games journalist!)
Yeah, a lot of fans are dying to see where the main series will go next, but let's not forget that there's still gaps left to be filled, narratively speaking. And Revelations will be doing just that, filling in the gap between Resident Evil 4 and 5. Operation Raccoon City will be doing this as well, showing us the events of the outbreak through the perspective of the catalyst itself, Umbrella. And going back to a point made earlier, both games also represent a two-fold plan by Capcom that could dictate where Resident Evil 6 goes in terms of gameplay style: If Revelations performs better than Operation Raccoon City, then Capcom might possibly go all-out with survival horror elements in the next numbered entry, and if Slant Six's shooter does better then…you catch my drift.

Let's all just relax and not go crazy about how Resident Evil 6 will end up being, or when it'll finally get announced– as hard as that may be to do. Let's just enjoy all the content we have available to us at this moment, and let's continue anticipating next year's Revelations and Operation Raccoon City, the former being a full-blown return to the world of survival horror and the latter being said genre taken to the next level.
Resident Evil 6 will definitely get announced sometime next year, there's just no doubt about that, and hell I may get shocked and see it announced by the end of 2011, but let's enjoy the series and continue celebrating its 15th anniversary by playing all the amazing games we've already been graced with, like Resident Evil 2 and Resident Evil 4. Or, if we're feeling a little more old-school we could go back to the one that started it all. It's a great time to be a Resident Evil fan, and it looks like it's going to continue being that way well into 2012, ideally culminating in the announcement of Resident Evil 6. For the time being, let's bring up another query: What the hell happened to Resident Evil: Damnation?