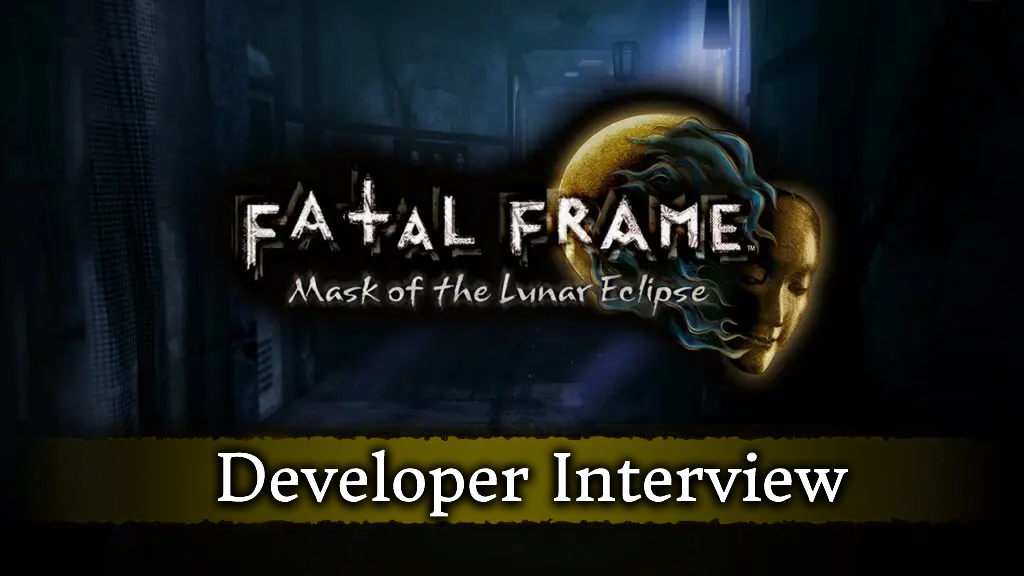 Koei Tecmo announced late last year that the remaster of Fatal Frame 4: Mask Of The Lunar Eclipse (also known as Project Zero in Japan) will finally launch in the West on March 9th, 2023.
We recently sat down with Producer Yutaka Fukaya and Director Makoto Shibata to discuss their work on the game, its inspirations in Japanese horror, bringing the game to the west for the first time, and more.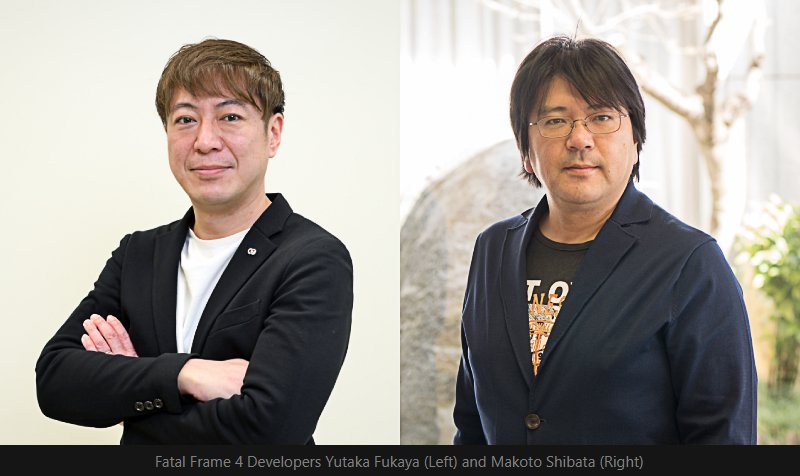 ROH: Hello, Fukaya-san and Shibata-san. Thank you for accepting our request for an interview! For starters, why did you choose to remaster Fatal Frame 4: Mask Of The Lunar Eclipse?
Yutaka Fukaya: When we released the remastered version of FATAL FRAME: Maiden of Black Water in 2021, it thankfully caught the attention of many people and we received a wide range of feedback. From this, we were able to feel that there are people all over the world who would like to see more games in the series released, and we wanted those who first discovered the FATAL FRAME series through "Maiden of Black Water" to further experience the allure of Japanese-style horror. We then decided to remaster "Mask of the Lunar Eclipse," which received a particularly large number of requests for a remaster.
ROH: As Producer and Director on the remaster, what do you feel the core Fatal Fame experience is, and what elements did you feel were essential to retain when remaking Mask Of The Lunar Eclipse?
Yutaka Fukaya: We felt that having a fear that appeals to the imagination was essential. Ghosts are scarier before they appear rather than after. Creating an atmosphere by various means in which a ghost might appear is a distinctive feature of this title. In the remaster, we kept the same atmosphere but made it more vivid.
ROH: This is the first time that Mask Of The Lunar Eclipse has officially been released in the west. The game was originally released on the Wii in 2008 but never saw a release outside of Japan. Did you take western players into consideration when developing the remaster?
Yutaka Fukaya: Yes, of course. Our desire to bring this game to as many people as possible is reflected in all the regions where it will be released and the variety of platforms it will be available on. We are especially pleased to be able to offer this game to those who did not have the opportunity to play the original version.
ROH: There is a lot more competition in the video game horror genre these days. What separates Fatal Frame from its competitors?
Yutaka Fukaya: I mentioned earlier that this is a horror game that deals with a fear that appeals to the imagination, but I think the camera-based battles sets this series apart from others. The tension of capturing the spirits that appear at the very last possible moment and photographing them is something that is not found in other games.
ROH: What are some of the improvements players can look forward to in the remaster that perhaps haven't been revealed to the public yet?
Makoto Shibata: An additional element is that the list is filled by photographing the Hozuki dolls hidden in each room, so we made it easier to understand collection elements for the player.
ROH: What does horror mean to you and how can games express horror in a way other mediums cannot?
Makoto Shibata: Horror is, in the extreme sense, thinking about death. It may not be immediate death, but rather the presence of death or the poesie of death. They cannot be seen, but everyone feels them at certain moments. Games are an interactive medium. You have to navigate through the game and experience it for yourself. I think that through graphics, sound, touch, and interaction, you can experience a sense of the unseen signs of death.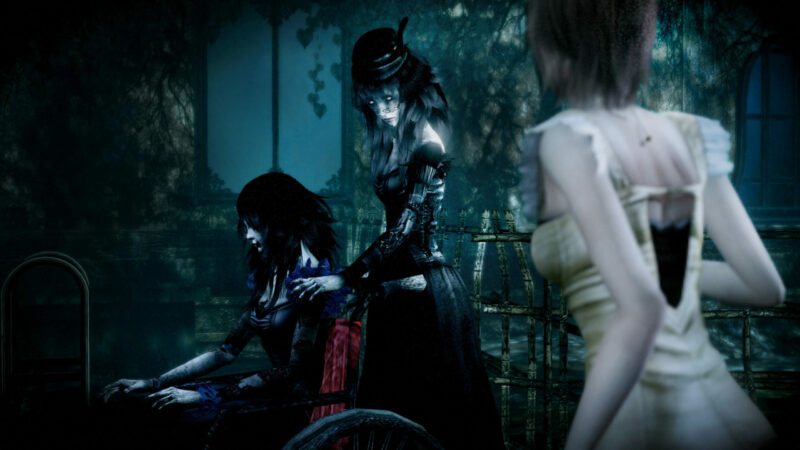 ROH: The protagonists in the Fatal Frame games are often young, vulnerable characters with little means of defense. How do you feel these characteristics help elevate horror in the series in general and in Mask of the Lunar Eclipse, specifically?
Makoto Shibata: In a story about ghosts, physical attacks using guns and swords are not effective. In order for the ghost to disappear and for the root cause to be resolved, it is necessary to look closely at the circumstances of the person at the source of the tragedy and sympathize with them. Therefore, in this series, the protagonist is a person who is physically weak and has emotions close to the ghost's source of tragedy.

In "FATAL FRAME: Mask of the Lunar Eclipse," the three protagonists are trying to recover their memories of the "lost day" as they approach the source of their tragedy. Each person recalls memories of a different aspect of a single incident. I think players will find that these elements also add to the horror.
ROH: Eastern settings are at the heart of Fatal Frame and each entry in the series focuses on very specific elements of Eastern culture. Why do feel these elements are so important to the series?
Makoto Shibata: This is because I am trying to create what I find most terrifying. Inevitably, there are elements that are familiar and native to Japan. I believe that by going through what I understand through my senses, I can create something that can be sympathized with and reach people from other cultures.
ROH: What are some of your own fears, and have any of them been incorporated into the game?
Makoto Shibata: As for what I find more horrifying, in the series it is incorporated into the circumstances of the final boss and the rituals. For example, in "Fatal Frame III: The Tormented" it was about the pain of surviving the death of a loved one. At its end, there is a message that the dead live on as long as the survivors continue to remember them. In "FATAL FRAME: Mask of the Lunar Eclipse," the theme was the fear of losing one's memory and not being able to recall important memories.
ROH: In addition to Mask Of The Lunar Eclipse, last year Koei Tecmo also released a remaster of Fatal Frame: Maiden Of Black Water. Are there any future developments in the series that fans can look forward to?
Yutaka Fukaya: We can't make any definite promises here about future developments, but if through the release of "Mask of the Lunar Eclipse" we find that many of you are looking forward to more from the series, we may be able to meet that interest. Please pick up and enjoy this game and join us in getting everyone excited about the FATAL FRAME series!
We would like to thank Fukaya-san and Shibata-san for taking the time to let us interview them. In addition to our interview, you can also view a special message from the game's producer here and listen to developer commentary as they play through part of the "Rogetsu Hall" stage.
Playasia is currently offering pre-orders on physical copies of the game for PS4 and Switch. The site says each version listed under the "ASIA" region "Works on all systems sold worldwide" and that "a correct regional account may be required for online features." The audio is in Japanese and subtitles are in English, Japanese, Simplified Chinese, and Traditional Chinese. A physical edition for PS5 was previously available to preorder through Playasia but has since been canceled, unfortunately.
There's a comprehensive breakdown of all the different physical versions as well as where to pre-order them on the Fatal Frame subreddit.
Fatal Frame 4: Mask of The Lunar Eclipse will be available digitally for Nintendo Switch, PlayStation 4, PlayStation 5, Xbox One, Xbox Series X|S, and Windows PC via Steam worldwide on March 9th, 2023.