Guide: Observer – Apartments, Passwords, Secrets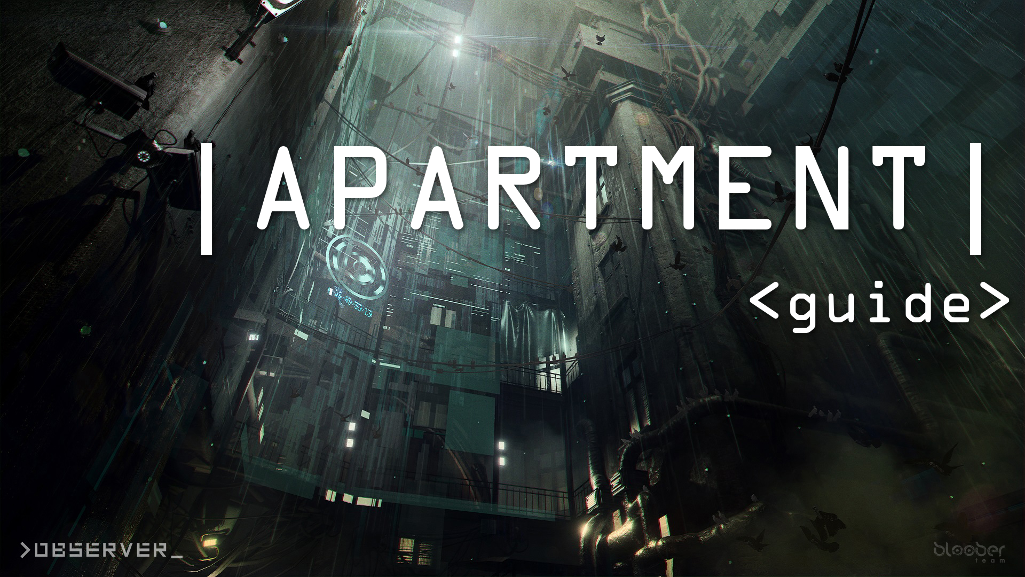 Bloober Team's Observer is here and it's pretty darn great. Set almost exclusively in an apartment building, the game has you explore the lives of multiple residents living within Kraków slums (AKA The Stacks). These people offer diverse stories, reactions and sometimes secrets, so I thought I'd make a handy guide to each of the occupants to help you find them all and know what you're in for.
This should be obvious, but there are light spoilers here. The guide is work in progress, so if you have any special observations and additions, let me know in the comments!
Legend: Main Story | Side Mission | Person / Place | Secrets
Ground Floor
002 – The guy here is very paranoid of his surroundings and dislikes you snooping around.
003 – A hollow projection / VR addict that really dislikes being in his own skin.
005 – Hostile guy that has no time for Lazarski.
006 – Tom and Irene, the way too chipper couple that probably wear matching sweater vests.
007 – Adam's apartment. Things here kickoff the mystery. The password is 1984 if you're lazy.
008 – Is afraid of cops.
009 – This guy has his hands full with two arguing children. An "upstanding citizen" otherwise.
014 – Maria is a religious woman that wants to share the word of the lord.
016 – He wishes you good luck in a totally not sarcastic way.
017 – This poor dad couldn't take it anymore.
First Floor
101 – A man missing his scheduled black market corrective surgery.
102 – This red pill fuck-boy gets a mouthful from Daniel, as he should.
103 – This guy is nosey, but that's just what an inquisitive detective needs.
104 – Amir Nowak's apartment. He got the raw end of a deal.
105 – Due to busted comms you can't understand him.
106 – Mrs. Nader, a grumpy resident with a sad history.
110 – This "Immaculate" family are kind of stuck up because their bodies are "pure".
112 – Another lead toward Lazarski's goal, but a right smart ass.
113 – Paulina and Pieta are very close friends. Scary friends. What will you do with them?
114 – Paulina and Pieta's "play room". The password is 1074.
Second Floor
202 – This mysterious room is locked. The password is 36__.
209 – This retired wrestler is pretty tragic. Chiron did him dirty.
210 – Jack is tied to this all somehow. Look for the Layers of Fear references here.
211 – This sex bot  is amusing at first, but she's not like the others.
213 – Helpful but hesitant to trust a cop.
Third Floor
301 – More machine than man. 78% actually. Long live the mecha… ugh.
304 – She's hot for quantum physics. Say hi. Or don't. Why not both?
??? – Perhaps another Layers of Fear reference. I hope you like dolls.
Basement
005 – Have you killed yet? Perhaps he's looking for a kindred spirit. Oh wait, you're an observer. Nevermind.
020 – This room has the tell tale signs of a torture room. The audio log of a young boy being interviewed can be listened to…
021 – The dude that lives her has got his apartment space maximized, fitting his tech toys and green lava lamp hookah inside/
023 – The kind of guy that puffs his chest up at a bar looking to over compensate for something.
028 – Oink Oink. The pass code is 7441.
030 – This poor guy, the captain of the Endeavor, is trapped in his chair. Turns out he's not a captain at all (unless you let him be).
038 – An unfortunate potential victim of domestic abuse.
Sewer
??? – This space belongs to a furry friend, and there's an optional mindjack session related to the main story. Do you like video games?