Nintendo today announced the release date for Resident Evil: Revelations (here's our story on it, just in case you missed that…).  In addition, The Big N has announced that it will exclusively handle the sales, marketing and distribution of Revelations as well, much as they handled Resident Evil: The Mercenaries 3DS.  This has been announced for Europe and Australia, although it's pretty likely that they'll be handling North America and the rest of the world will be handled the same way.
With Nintendo at the reins, a Resident Evil: 3DS bundle is a good possibility.
It's no small secret that the Nintendo 3DS has not seen the kind of initial success that some of their previous handhelds have (or their consoles, for that matter).  Two major factors sent Nintendo's sky-high dream of having another Wii-like phenomenon on their hands crashing down to earth: 1) the dismal launch lineup.  It wasn't two months until the console saw some actual games worth spending money on.  2) The astronomical launch price made even those games worth buying not worth shelling out over $300.
Nintendo now has a chance to score a home-run with a market that feels that they've been all but ignored.  Survival horror fans have pretty slim pickings on Nintendo's console, despite the Resident Evil: Chronicles series or an RE4 re-hash here or there.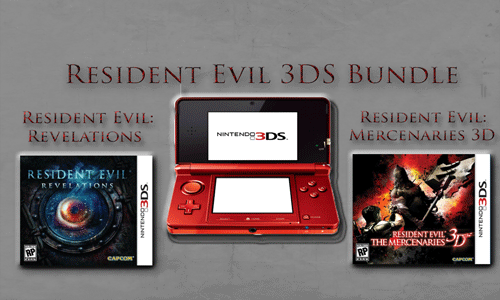 Come on, Nintendo!  Make it happen!
I'll admit, I didn't like Resident Evil: Mercenaries 3DS as a standalone game – it felt like it was lacking something – another game to go with it perhaps?  Resident Evil: Revelations and Resident Evil: Mercenaries 3DS would make an excellent combo.  Two Resident Evil games, a red and black 3DS and a more reasonable MSRP, a 3DS bundle would be the console to own come February.
Nintendo has the power to make it happen.  Aside from a lack of time to prepare for marketing and production time, there's no reason that it 'shouldn't' happen.  Nintendo would be downright dim not to see the potential here, and quite frankly, we know they're better than that.
However, I can tell you what definitely won't be happening – that exclusivity deal with Nintendo all but drives the final nail in the coffin for Revelations on the PS Vita.  At least for now.
Do you already have a Nintendo 3DS?  Maybe we don't have to ask if you're getting Revelations (isn't that the only reason to have a 3DS at this point?).  If you didn't have a 3DS, would a bundle perhaps change your mind?  Let us know, we like hearing from you!