Resident Evil 2 remake hype is in the air again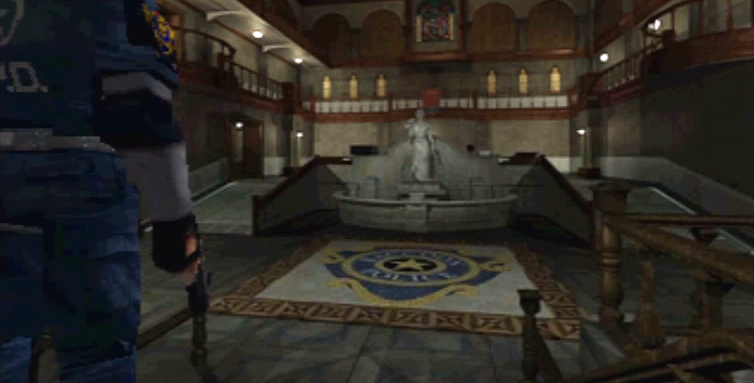 Resident Evil has such an intensely divided fanbase doesn't it? You've got the purist old-school fans, you've got the RE4 and beyond enthusiasts (but especially RE4), and then you have the fans who like both the old and new games and are a little more open to everything. It's been a while but I remember there was another hype burst for RE2 a year or so ago, and I remember even Resident Evil voice actors were tweeting in their support for a Resident Evil 2 remake. Now the Resident Evil Facebook page has stirred up interest in an RE2 remake again.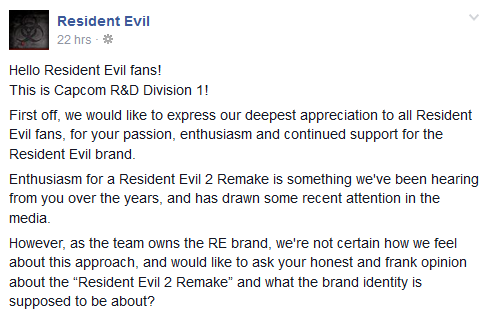 So of course the comments section got busy pretty fast as a response. There are multiple different sides you'll see. A big portion wants Resident Evil 2 to be remade the way the first Resident Evil was remade with the Gamecube REmake. There's also a percentage of people who want RE2 to be remade to be like Resident Evil 4. Plus the side that is less focused on diving into the past and more interested in the future with Resident Evil 7.  It's definitely not really possible to please everyone and I think it's been that way since RE4 was created, which was somewhat drastically different from the past games. Once that game's fanbase formed, there's the divide forever. And everyone goes off and tells the other side why they're wrong (ahaha). So now we have all these factions of different kinds of Resident Evil fans and they all want different things from this one company for this one series. Seemingly though, a lot of games to have come out since 4 have been targeted more towards 4's side of the fanbase. Some argue that Revelations was the attempt to get back into the series roots. That it's for the old-school fans. Personally I felt that it resembled RE4 and wasn't reeeeally for the old-school fans exclusively. Kind of like an attempt to please everyone. Some appreciated it of course but some still desire a bit more.

Personally I do not feel like there has been a game out strictly for the old-school fans in quite a while. When I say strictly I mean a game designed solely with the old-school fans in mind. For them, only them. No worries of "Well what if the more action oriented fans do–" no. I think a Resident Evil 2 remake in the likes of RE1's REmake would be a well deserved treat for the purist oldie fans. I of course speak as one myself. And when I  say I want a remake of Re2, I'm not even necessarily saying it NEEDS to be remade. Unless you're very very modern oriented in what you can tolerate visually ("I can't go back to old games, the graphics look so bad"). Resident Evil 2 is actually still a fantastic looking game.  It's even a huge improvement from the first Resident Evil which had a more plainly simple look to its environment. It felt a little bit more empty but maybe that was intentional. Resident Evil 2 had a lot of detail put into it. Its soundtrack is still amazing of course. And it still functions fine as a game.
So then why have a Resident Evil 2 remake? Well it's partially because of how amazing REmake was. REmake was able to take a game and make it even better and even add new content without taking anything away from the original. It was a remake that truly valued the original in almost every way and was able to show it very well. The thought of Resident Evil 2 getting the same treatment is exciting. Of course as said before, Resident Evil 2 may "need" it less than RE1 ever did. But hell, a lot of us still want it anyway. To bring back that old style of games in a fresh way, to bring something that's been dead for a while back into the spotlight. Revisiting the past that isn't simply a port of one of the past games. But don't get me wrong, I appreciate and value those very much as well and I plan to support Resident Evil 0 HD any way I can like I did for REmake HD.
Resident Evil 2 has already gotten a fresh modern spin on it before as most of you probably know with Darkside Chronicles, a rail shooter. Definitely not a true remake by any means. But man how cool it was to hear classic Resident Evil songs being professionally remade with as much effort and love as they did (the Code Veronica ones were amazing, they went ALL OUT). One of my favorite soundtracks of all time for sure. Resident Evil 2 being remade like REmake would be that feeling x100.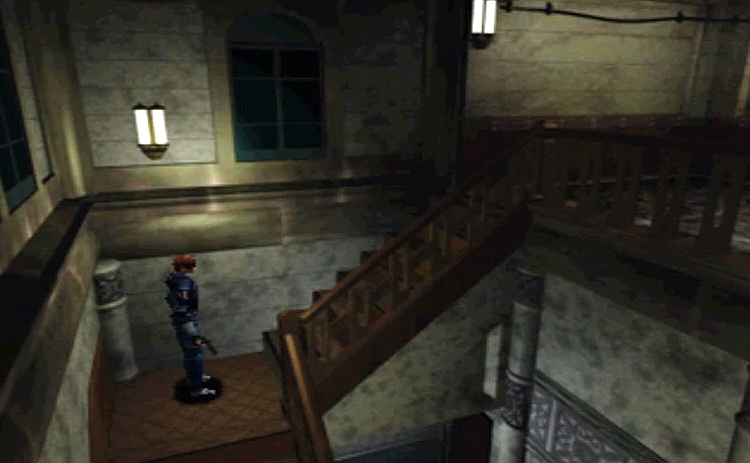 My biggest fear, of course, is Resident Evil 2 being taken and remade for RE4 fans. Taking a game that was originally for a different demographic, and then giving it to someone else. Kinda sounds familiar? Replace "game" with "game series". I'm bitter. It's okay we're all friends here, let's not kill each other. We'll never all agree on the same points. I'm hardcore purist old-school fan so you know what to expect of me.
One of the biggest reasons why a lot of people argue about the old games and why they don't like them and would want any sort of remake of them to resemble 4 (camera and gameplay probably) and 6 (free normalish controls) is because they do not like tank controls and the fixed camera… Very commonly referred to as "shitty controls" and "shitty camera". They're definitely not for everyone. But I do not believe that they are a mechanic/play style that should be wiped 100% off the face of the Earth. If you don't like them that's fine, but they shouldn't completely disappear for everyone for that reason alone, you know? I think they can still have a place in the industry. Should they be the standard again? Of course not. But for things like some survival horrors? Sure. For something like oldschool Resident Evil? Yes.
Tank controls compliment fixed camera very well. And fixed camera angles are a pretty nice style in survival horror that we just don't see as much anymore. It gives an entirely different type of atmosphere. A lot of it is just having to get used to the combination of the two which really isn't that difficult. Once you get it down you're set and it's pretty easy. I value both and would want them implemented into a RE2 remake. And hey, they'd probably add the option to give you more free control like REmake's HD port did. And that's okay. As long as you just give us the option you know? I don't think every game/series should conform to the same rules. I don't think Resident Evil 2 being remade totally faithfully, including fixed camera and tank controls, would be a terrible thing. I don't think it'd be bad because "it didn't evolve" because it didn't adapt RE4 camera and RE6 controls or something like that. Because I don't view old-school Resident Evil design as flawed. Don't worry I'm sure I'll write some poorly explained article here on why fixed camera is the greatest thing in the entire world some day.

What made old-school Resident Evil so effective and why are people so determined to go back to it? Resident Evil had atmosphere and wonderful environments. There would be moments where there wouldn't even be any enemies, but that eeriness would still have you feeling tense. Hallways and corridors were very narrow, giving you a claustrophobic feeling.  You felt a bit trapped and vulnerable. Even the fixed camera angles made you feel uneasy. I kinda liked that I felt like a fly on the wall at times, moving my character as if they were a chess piece. Everything was limited and you would have to rely on your own management skills to survive and to lessen how often you would have to backtrack. Use your herbs wisely. Don't get hit enough times where you have to use them all up, and then not have any for moments you really need them like a boss fight. Limited ammo where you have to be very selective in when you're willing to fight or run. You didn't have autosaves or endless saves. If you die, you will be punished and have to do things over again. It all depends on when you last decided to save that determines how bad the punishment is of course. You can even challenge yourself by attempting to do a no save playthrough. That is perfect for a genre like survival horror. There were no roll dodges or melee moves (RE3 had a dodge though and I'm torn on how I feel about it). You felt a bit more limited in what you could do and I think that's great for horror.  There's people more articulate out there who can explain it more clearly probably. But I hope you get the gist of it.
My opinion is pretty set in stone and I think so is everyone else's. We've all chosen our respective sides. We just have to wait and see what happens in the end.