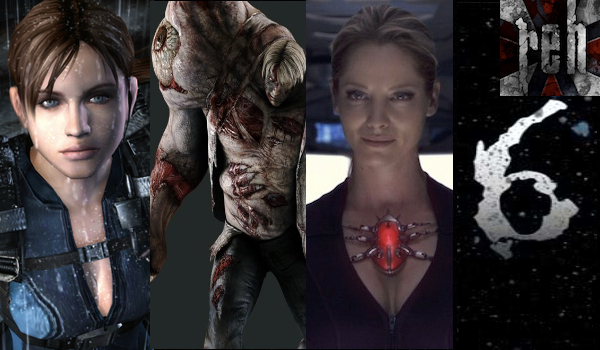 Resident Evil saw a great year in 2011. Rightfully so since the series celebrated its 15th anniversary back in March. It was the beginning of "The Year of Resident Evil," which is going to continue well into March 2012. Whereas last year was filled with HD revivals and the series' first foray into glasses-free 3D territory, 2012 is looking to offer more significant releases– the most notable ones being February's Resident Evil Revelations and March's Operation Raccoon City. But apart from those two big games, there's also more to come for Resident Evil fans– like the upcoming fifth film in the franchise and whatever other surprises Capcom has in store for us (hopefully Damnation, am I right?). So sit back as with this week's reHorror column we're going to be looking at the series' offerings in 2012.
Resident Evil Revelations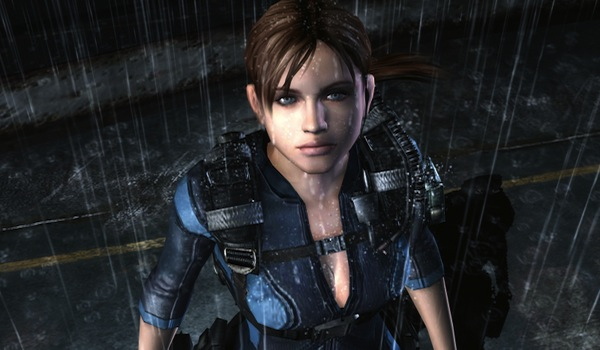 First up we got Resident Evil Revelations, scheduled to hit 3DS owners in North America on February 7. The game's set to bring back what's been missing with recent entries in the franchise: true survival horror. Resident Evil 4 was a masterpiece, and Resident Evil 5– say what you want about it– was an awesome conclusion to the Chris/Jill vs. Wesker storyline, but both those games didn't really succeed in delivering a truly horrifying experience. Revelations looks to be that game.
With a massive storyline set between the events of Resident Evils 4 and 5, Revelations gives the main character role to Jill Valentine, with Chris Redfield and a selection of new faces serving as secondary characters, each with their own intertwining stories. The luxury cruise ship is the star of the game when it comes to settings, and that's where the bulk of the game will take place. But as aforementioned, the plot branches out and puts you in the roles of other characters (Chris/Jessica, Jill/Parker, Quint/Keith, Parker/Jessica) as players will be uncovering the secrets behind Il Veltro, all while battling the BOWs brought about by the T-Abyss virus.
Don't let its platform fool you, Revelations is truly the next major entry in the series, looking capable enough to rival any of its home console predecessors. And with only weeks left until its official release, you can bet your ass the excitement is through the roof at this point. I'm ready to be taken back into the world of survival horror. Just wish me luck!
Resident Evil: Operation Raccoon City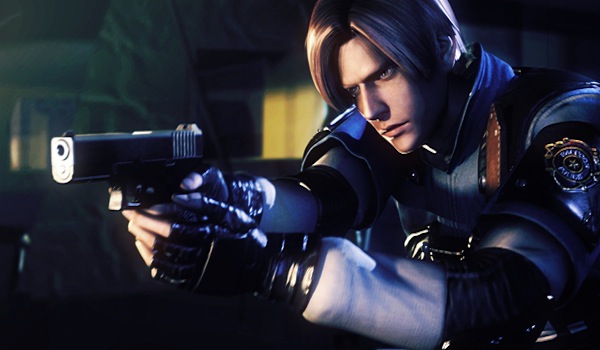 Next up is March's Operation Raccoon City, from Slant Six. Back when it was first revealed that Capcom handed over development of the game to the former Socom dev', fans were concerned about just how exactly this new entry would turn out. Months have passed, and fans seem to be showing more signs of excitement, especially with the reveal of Birkin being a boss in the game and the Heroes mode where players will be able to take on the role of their favorite protagonist (Leon, Claire, Jill, Carlos) or antagonist (HUNK, Nicholai, Ada) as they battle against each other with the BOWs all caught up in the mix. Oh, and there's a brand new character in there, too, who may not actually be all that new for fans who've found his connection to HUNK. But the gist of the game is its actual premise.
Like Revelations, ORC is a game set within the series' past,  and will unearth new revelations (haha) that we were kept from us before, since, you know, we're playing as Umbrella this time around as the USS battles Spec Ops forces with BOWs and classic zombies joining in the fray. It's set right in the series' most critical point: the Raccoon City outbreak, meaning Resident Evil 2 and 3, of course (and the Outbreak if you want to get technical). You'll take on the role of one of six USS squad soldiers (Lupo, Vector, Spectre, Beltway, Four Eyes, and Bertha) in this 4-player cooperative shooter as you desperately try to conceal anything linking Umbrella to the ongoing outbreak. What's more, HUNK is serving as a commander-like figure throughout the game, with him and other classic characters set to make an appearance.
One of the main hooks of the game is not just that it's going to reveal some major story beats we didn't know of before (now that we're seeing things from Umbrella's perspective), but also that we'll actually be able to alter the events of Resident Evil 2 and 3 if we so wish to– ultimately leading to the entire canon being affected (kill Leon!). Will you play it safe and just enjoy the ride without opting to alter the series' already established canon? Or will you make it a mission to kill Leon and other beloved characters? The choice is yours when Operation Raccoon City lands on the PlayStation 3 and Xbox 360 on March 20, with PC release date still to be determined.
Resident Evil: Retribution
Here's one that many fans may in fact be secretly looking forward, despite the bitter taste left in their mouths from the previous films. Resident Evil: Retribution isn't just the fifth entry in what's definitely the most successful game-to-film series in entertainment to this day, it's also the Resident Evil movie that'll bring a few beloved characters to the silver screen for the first time. Said characters are "The Lady in Red" Ada Wong, "The Family Man" Barry Burton, and "The Ladies' Man" Leon S. Kennedy. Say what you want about the casting choice for Leon, you have to admit that there's a profound sense of excitement for seeing one of the best characters in the series finally making such a big jump. And the casting for Ada Wong seems to be picture perfect, we'll just have to wait to see if Li Bingbing can deliver a faithful live-action representation of the fan-favorite femme fatale, the same goes for Kevin Durand's Barry.
The film's plot seems to be all over the place at this point, though. Judging from set pics and reports, there's a lot of ground to cover in the film. Hell, there's also huge cast of characters, even comprised of some returning characters that were previously dead. So, yeah, flashbacks galore perhaps. Even so, Retribution will undoubtedly continue Alice's arc (I know you all love her) as she's now going up against Jill Valentine (you know, the Wesker-loving one). What I'm hoping for is that we get to see an awesome flashback depicting Leon's survival during the Raccoon City outbreak. There were Raccoon City scenes shot, so it's a possibility. Just don't kill off any classic character, Mr. Anderson.
Will the film succeed in actually satisfying Resident Evil fans? With Mr. Anderson focusing much more on big action-packed set-pieces (one of which being a big car chase scene replicated after the humvee sequence from Resident Evil 5, complete with motorcycle riding "zombies" and a very luxurious Rolls Royce replacing the humvee) perhaps the film will end up being looked down upon by fans looking for a faithful film adaptation. We'll have to wait and see the film for ourselves when it hits theaters on September 14.
Resident Evil: Damnation
Staying in line with the films, next up we got the very mysterious Resident Evil: Damnation. We barely know anything about this upcoming sequel to the last CG-animated film, Degeneration. The teaser trailer above is really all we've got. So basically, it takes place in an European war zone and stars Leon. And oh boy is it a war zone. It's lickers galore in this town, and the high numbers of the country's armed forces can't really compete against these BOWs, even with tanks! Things get even more interesting at the end of the trailer once we get a look at another male character, presumably Billy. And really, it's about damn time Billy shows up again.
Resident Evil: Chronicles HD Selection
This particular title, housing HD versions of Umbrella Chronicles and Darkside Chronicles, has yet to receive an official release date, or even official word that it'll be seeing release outside of Japan for that matter. But knowing Capcom, it most likely will. What's most likely going to happen is something similar to their previous revitialized Resident Evil releases (Resident Evil 4 and CV:X HD): Japan gets an actual disc release of Chronicles HD selection (ala Revival Selection) while every other region gets both games included in downloadable form.
There's one thing we do know for sure at this moment, though: it's only been announced for the PlayStation 3, which makes sense since the PlayStation Move is not unlike the Wii Remote (when you cut things down to basics). If you could recall, both these games didn't really perform as well as other big entries in the series did, which is to be expected since they are spin-offs afterall, so this jump to HD can possibly see better results. Both Umbrella Chronicles and Darkside Chronicles can be seen as a sort of Greatest Hits version of the series, with the former giving fans a retelling of the events of Resident Evil 0, 1, and 3, while the latter provided a retelling of Resident Evil 2 and CODE: Veronica. What's more, both games also injected some satisfying new chapters, too. Umbrella Chronicles had a mission set in one of Umbrella's Russian strongholds (with quite an epic final boss battle) which starred Chris and Jill. Darkside had an even more amazing new scenario detailing Leon and Krauser's time together pre-Resident Evil 4 in South America.
With PlayStation Move support and trophies, Chronicles HD selection is primed to offer owners of the blu-ray powerhouse two superb, previously Wii-exclusive titles. It'll also join the ranks of other on-rails survival horror titles on the platform like Dead Space Extraction and House of the Dead Overkill Extended Cut. It's definitely going to be something to keep on the radar as we head even deeper in this new year.
Resident Evil 6
The final piece of the Resident Evil 2012 puzzle is Resident Evil 6. It may not even come out this year, but we can safely expect the big reveal we've all been dying for. Capcom needs to come out and finally make Resident Evil 6 official, and I can almost bet any amount of money that this year we'll get that announcement. E3 sounds like the best venue to do so, too.
It's time to put an end to all the rumors (or confirm them) that've been circulating for months– it reached an all-time high when a presumed official logo was leaked (followed by a trailer) during comic con season. Everyone was talking about the inevitable sixth main numbered entry in the successful franchise, speculating all sorts of things (myself included). From reports that Revelations would be a strong lead-in, plot-wise, to the events of RE 6, to Leon and Jill being reported as the main characters in the game, with Ada being given a villain role. Things got wild amongst fans. It's time for the moment of truth. Resident Evil 6 is coming, but the announcement is being delayed most likely because Capcom doesn't want to steal Revelations and ORC's thunder– a wise move.
One thing's for sure: Revelations may be a sign of what's to come for the series. Perhaps said 3DS title is the beginning of the franchise's complete return to what made it a part of gaming history in the first place: survival horror. Capcom could leave spin-offs to offer action-packed light-horror experiences, but they definitely have to follow the release of Revelations with a full-blown horror game being the sixth main numbered entry in the beloved series.
—————————————————-
Things are once again looking good for Resident Evil fans in 2012. It's deifnitely looking like this year will be filled with a great amount of content for fans to enjoy: from the highly anticipated 3DS exclusive, Revelations, to the cooperative squad-based shooter set during the events of two of the series' high points, Resident Evil 2 and 3, with the multiplatform release of ORC. Then you have the HD versions of two awesome light-gun shooter entries, with the Chronicles HD Selection. Then there's the next film coming in September, which may or may not please all Resident Evil fans (as is always the case whenever a new one comes out). Speaking of films, then we also have Damnation, which should be coming out this year, if it hasn't been canned. Hopefully we learn more about the film in the months to come. And how can we forget about the inevitable RE 6 announcement? It's definitely going to happen this year, and it will definitely get people beyond excited all the way up until its eventual release (which may not be in 2012). What are you most looking forward to?