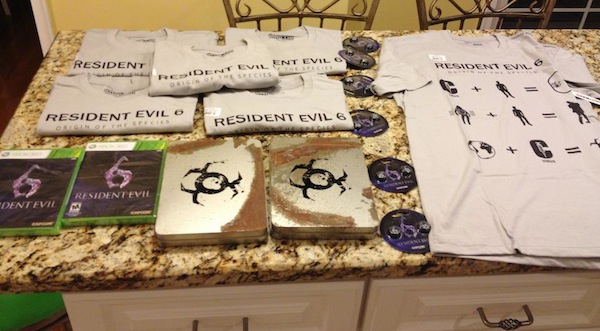 I decided to do something different with this reHorror. Instead of me going on about my crazy theories and speculation for the series (don't worry, I'll get back to that!), I decided to give you guys a chance to win some prizes! All this wouldn't have been possible without Capcom, so a special thanks to them for sending me all this! Now, on to the prizes…
Pictured above you'll see all the stuff I'll be giving away. Yeah, yeah, I know, The Merchant is going to hate me for giving away this stuff at no price at all, stranger! But hey, I love you guys. So, here's how it's going to go:
Grand Prize (2 winners): Xbox 360 copy of Resident Evil 6, No Hope Left rusted tin case (which houses some awesome surprises inside!), Resident Evil 6 logo Geltabz, and a Resident Evil 6 "Origin of the Species" T-Shirt (size Medium).
Runner-up Prize (4 winners): "Origin of the Species" T-Shirt (size Medium) and RE6 logo Geltabz.
So…how can you win these goodies? Well, it's pretty simple. All you have to do is leave a comment below explaining what you think about the series' evolution and current style. Do you accept the series' changes? Or do you despise them? Leave your in-depth thoughts in the comments section below and the best entries will be chosen. Sadly, this contest will only be for those in the US.
Lastly, be sure to leave your email address at the end of your entry in the comments section. This will be my way of contacting you, letting you know if you were chosen as a winner or not. If you would rather not have your email be made public (stranger!), then just make sure you leave your comment using your email address. Or you can comment using your Facebook profile, but if you do so, just be sure you can receive messages from people not on your friends list. I just need to have a way of contacting you!
The contest will end on Halloween (fitting, huh?), Wednesday, October 31, 2012 at 10PM EST.