Our most anticipated horror films of 2012
It's January and you all know what that means: a new lineup of material!  Angel C.  and I have compiled a list of our most anticipated films of 2012.  We are very excited for this year's upcoming schedule and hope you are as well!  Enjoy!
Mike's List:
Silent Hill: Revelation 

We here at ROH cannot go a day without talking about this movie; due out in 3rd or 4th quarter this year, we children of Toluca Lake are eagerly awaiting the release of Silent Hill: Revelation.  Love or hate the first movie, it was a very fun and interesting outing for the first film.  With a star-studded returning cast, (including the one and only Sean Bean) the film seemingly follows in the footsteps of the video game's storyline from Silent Hill 3.  Cross your fingers, ladies and gentlemen, we've all wanted this since the ending of the first one!
The X-Files 2012
 
While The X-Files hasn't been prominent in the past 10 years, it shaped modern dramas on television, changing what was acceptable and ultimately ushering in a new era of TV shows.  Our favorite FBI agents, Fox Mulder and Dana Scully returned for their second film outing in 2008 to mixed receptions, but as any fan of the show would tell you, it was basically an extended episode and it was fun, exciting and just plain nostalgic to see Duchovny and Anderson side-by-side once more.
If you watched the show you'd know that the year 2012 is very important in the series' mythology arc and rumors have been spreading like wildfire as the date has gotten closer.  While there has been no official announcement by any of the parties involved, the possibility of this happening is very strong.  Don't be put off by the short (less than a year until its rumored release date) timeframe without any confirmation of this being planned, let's not forget the last time they made a movie they released fake set pictures to lead people in an entirely wrong direction –and we ate it up.  They're good at what they do.
Mike's Most Anticipated Horror Film of 2012:
Prometheus – Summer 2012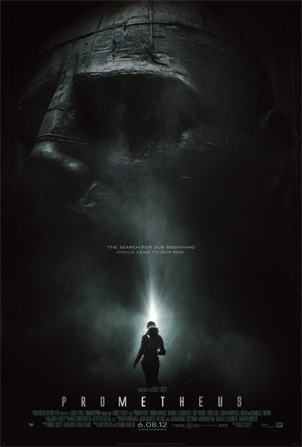 Since its announcement years ago, Prometheus has garnered a lot of attention, mainly because Ridley Scott is an incredible filmmaker, but also because no one knows for sure what it's about.  We do know that it was originally slated to be a prequel to his sci-fi epic, Alien, but that has since gone by the wayside.  While Ridley Scott agrees that there will be hints of the origin of the Aliens, others state that it's completely separated from that storyline.  Whatever the case, I'm pretty positive we will come to understand the back-story to the Alien and what has me just as excited is learning the origins of the "Space Jockey," as any Alien fan should be.  Whether you're an Alien veteran or a general movie-goer, I'm sure we'll all be in for a great film here.
Angel's List:
The Woman in Black – February 3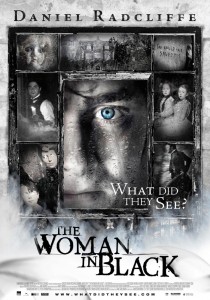 I have my eyes set on "The Woman in Black" ever since I've seen the teaser for the film. The movie looks refreshing and reminds me of the old ghost or haunted house movies back in the day. The story involves a young lawyer (Daniel Radcliffe) travels to a remote village to sort out a dead client's papers in an isolated house. The trailer delivers the chills and managed to catch my attention. The Woman in Black could very well be next year's Insidious. Watch the very creepy trailer below:
Cabin in the Woods – April 13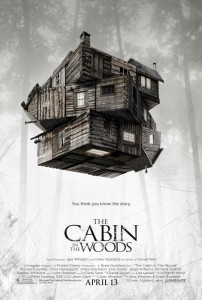 "A group of friends at a cabin retreat scratch the surface of something so massive and horrific that they can only begin to fathom it as time quickly runs out. If you think you know this story, think again. 'Cabin in the Woods' is a mind-blowing horror film that turns the genre inside out."
This is Cabin in the Woods, a film that promises to reinvent the slasher genre. I am very excited. You can watch the SPOILER-filled trailer below, consider yourselves warned:
Resident Evil: Retribution – September 14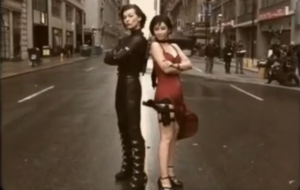 I know, I know, the film adaptations of the Resident Evil franchise (except for the first one and the CGI film Degeneration) have sucked. I really despised the last two movies. However, as a huge fan of the series, I am still eagerly waiting for Resident Evil: Retribution. The fifth entry features a large cast that will finally bring fan favourites Leon, Ada, and Barry their debut to the big screen and also sees the return of Jill Valentine(!!!). 'Retribution' is shaping up to be a better entry than the last two. I am just hoping that the aforementioned characters won't be overshadowed by the large cast which features a lot of returning characters (even from the first film!).
Angel's Most Anticipated Horror Film of 2012:
[REC] 3: Genesis – Release date TBA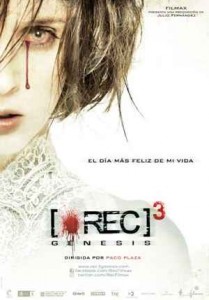 I love zombies, and I know you all do as well. The [REC] franchise has always been one of my beloved zombie films and the first two have delivered the goods very well. This time however, [REC] 3 is taking the franchise on a bigger scale, bringing the infection out of the building while also bidding farewell to the shaky cam style. I am really pumped up for this sequel, I just hope that a North American release date will be announce real soon. You can watch the awesome trailer below: