Character Spotlight: Simon Belmont
He was the first vampire hunter in the series; he waded through evil dungeons and monsters with ease, hunting down their leader with his trusty whip, Vampire Killer, that had been handed down from ancestor to ancestor and then finally to him. It was his time to make a difference, his time to save the world.  His name is a legend.  He is Simon Belmont.  In 1691, Simon had his chance to pursue the Lord of Darkness and save humanity as his ancestors had before him.  The original adventure was so prominent in gaming history that it was remade on the Super Nintendo to commemorate its timeless impact.  Both games were excellent and offered us a unique adventure that stays with us to this day.
When the first Castlevania hit our NES consoles, Simon was there to guide us through the adventure.  While he isn't the first vampire hunter to off Dracula, his impact may be the biggest.  Simon Belmont has become a bit of an icon in gaming and seemingly everyone knows his name even without having played the game.  It's not often that a character transcends time and space to become a household name the way Simon did.  Sure, you have your Master Chiefs, Marcus Fenixes, and Kratoses, but gaming is a lot more prominent now than it once was and characters have more opportunity to become iconic.  Simon is among the elite classics that helped make gaming a success.  Alongside him are Mario and Samus, just to name a couple.
In any event, Simon's quest (no pun intended) made history, bringing the world one of its most intriguing and definitive titles, warranting countless sequels, prequels and spinoffs.  With all of the fuss and muss over the series, our first love of the vampire hunter has not been forgotten.  Simon Belmont will live on as we continue to grow and play future games in the series.  He is scheduled to make an appearance in the new 3DS title, Castlevania: Lords of Shadow – Mirror of Fate, which will undoubtedly bring him back to the forefront.  Keep your eyes and ears peeled for more information on that title as well as we near the release date.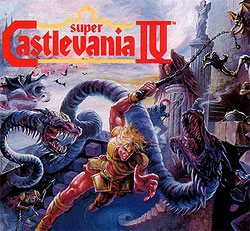 Long live Simon Belmont.