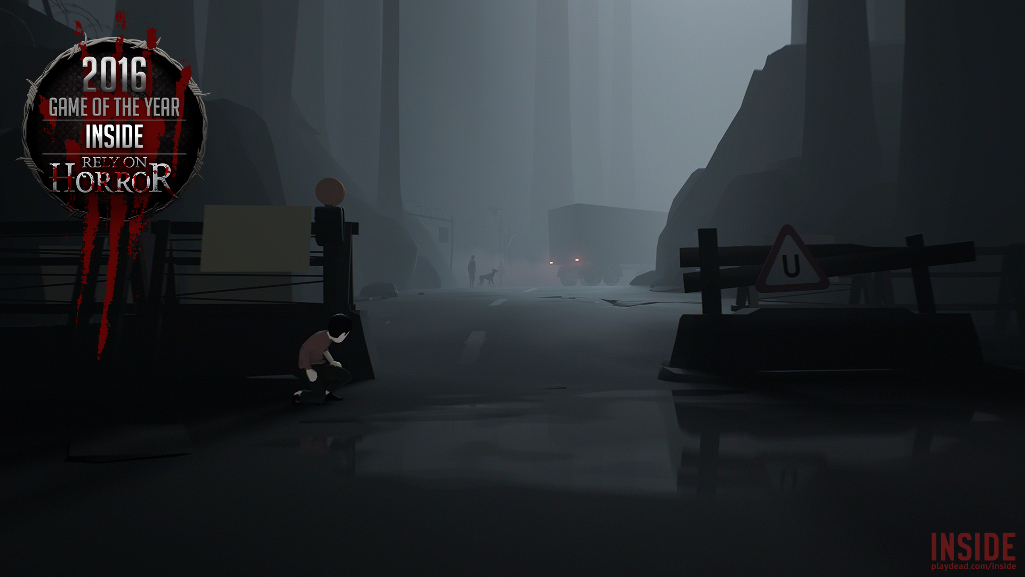 INSIDE by PlayDead! After an intense voting process, the Rely on Horror staff has chosen the bleak and minimalist horror game INSIDE as our 2016 Game of the Year! Below select staff have contributed a paragraph or so on why INSIDE topped our other nominees. And once again, we're including our award image below, designed by Whitney Chavis.
If INSIDE isn't your 2016 GOTY, tell us what is in the comments!
Thomas Truong
Up to a bombastic experience at the end that doesn't compare to any other game released this year, INSIDE is a heavily fine-tuned experience. Every setpiece has meaning, world-building, and character. While it feels like a upgrade to LIMBO, that isn't necessarily a bad thing as a lot of obtuse puzzles have been streamlined and reduced to quicker (but just as dangerous) obstacles to overcome. Playdead proves they weren't just lightning in a bottle with their first game and I'm awaiting to see what they can do next.
Rourke Keegan
No single studio has been able to replicate the quiet, ambient thoughtfulness of Playdead's Limbo — an experience I would place as a must-play for any gamer — until Playdead themselves. Inside delves right back into the dreary dreamscape design that made Limbo such a marvel, now with 3D visuals and a drab color pallet that works within a limited range to create striking scenes reminiscent of early 20th century commercial art. It is every bit the haunting and beautiful game its predecessor was, and its story (without doing it the disservice of trying to *explain* it) is just as conversation starting and mind warping. Yet another tremendous and unique game that is, yet again, not one to miss.
Alyssa Hatmaker
Inside is a marvel of game design in the simplest of ways by staying unsettling throughout. Every piece of it, from the mind-controlled people to the infested farm animals, echoes oppression and loss of autonomy. As the boy, you move through each screen and each puzzle fluidly, because that's the point of the game – to keep moving, keep pushing… until the end, when everything slows down and suddenly seems to go in the opposite direction. The sense of urgency is replaced with a heart-dropping emotional ending the likes of which other bigger and louder games didn't offer this year.
Destiny Maddox
It is rare that a game can be both as minimal and engaging as Inside. From its monochromatic, simple graphics to the pared down soundtrack and straightforward puzzles, it would be easy to dismiss Inside as a bundle of lazy gimmicks. The game is anything but, and players who have skipped it thus far for more action-oriented titles should give it a chance. Playdead has polished every pixel of this game by hand, fine-tuning it into a true masterpiece. The puzzles are streamlined, the graphics allow deeper emotional immersion, and the story pulls off a twist at the end that changes the entire nature of its horror. From a soundtrack created using a human skull to a world full of depth without color, Playdead's dedication and effort set Inside firmly outside of the box.
Brock Wilbur
INSIDE isn't the most innovative or clever game of the year, but it is the most memorable. While it is, down to the puzzles, almost exactly the same game as Limbo, there's an element of that re-purposing that makes INSIDE so special; taking a puzzle game and drowning it in alien phantasmagoria and enough big ideas to make talking about your interpretation almost as fun as playing the game. It's a beautiful and easily conquerable slice of gaming that shows off the best of what 2016 could be.
CJ Melendez
Playdead has proven that they're masters of storytelling. INSIDE miraculously improves upon almost every aspect of LIMBO, including its ability to construct a world and its history without text or voice. The world of INSIDE is bleak and mesmerizing, and playing as one if its young inhabitants channels a child-like wonder toward horrifying sights and realizations. Playdead mastered making the player feel surrounded by oppression, in the physical and emotion sense. The game's obstacles range from monstrous mechanisms and creatures to insidious structures designed to divide humanity in more ways than one. INSIDE is a testament to great game design and what the medium can accomplish narratively, and is certainly one of the best games this year.
Matthew Kim
Inside had the difficult task of living up to the haunting reputation of its predecessor, Limbo, and not only met them, but surpassed them. In virtually all areas like gameplay, narrative, design, and visuals, Inside is a bigger, badder, and ultimately sadder beast than one of the best indie horror games of all time. Also they composed the music inside a human skull!