Review: The Walking Dead Episode 4- Around Every Corner
Just in time for the series' return on AMC this Sunday, Telltale Games released The Walking Dead's latest episode, Around Every Corner earlier this week.
Editor's Note:  
While we try to keep them to a minimum, due to the nature of the game and the fact that it's an episodic release, this review may contain spoilers from previous episodes.  If you'd like to take a look at our previous reviews, check out Episode 1, Episode 2 or Episode 3 by clicking the links.  If you haven't decided to play the game yet…I don't know what to say to you.  The retail version should release soon, so…if that's what you're waiting for, there's that…
When we last met up with Lee and the gang, the group were headed to Savannah.  We also learned that Clementine's radio was actually functional and that not only was it working, she was actually using it to communicate with someone. They beckoned her to Savannah under the guise that they knew where her parents were.  Being young, innocent Clementine, she believed them, even if it was obvious to the rest of us that these mysterious strangers had less than noble intentions.  There are a lot of nefarious folks in The Walking Dead universe, so it shouldn't come as too surprising that someone is luring Clem, but it still is.  And it still is a major piss-off.  Lee boasts to another survivor in this episode that he and Clementine have been through more together than anyone could possibly know.  If anyone comes between the two of them, they'll wind up dead.
And you'd better fucking believe it.  I know that no one is safe in The Walking Dead's universe, but part of me prays that Clementine is the exception to the rule.  I hold out hope that the writers will find it in their cold cold hearts to spare this sweet little girl the horrors of becoming a walker, and the players the horror of knowing that there would be nothing they could do to stop it, or change it.  It would be like Aerith all over again, except she Clem doesn't hold any valuable Materia.  Episode 4 reminds me that I made an unofficial promise to Clementine to keep her safe, and I need to stick to that promise regardless of what happens to me or to anyone else.  She's been with me from the start.  She depends on me, and she's helped me out (um…me as in Lee) of a few tight spots.  So I'm not her babysitter, she's not my daughter – she's my friend.  The one person I can count on in a world gone to hell is a little girl, who neither has the physical capability or the mental capacity to be evil.
I don't like leaving Clementine behind, and I don't like it when she's upset with me.  I play as a pretty decent person – I try to be fair to everyone, I try to reason with people, but if something happens to Clementine, you'd better fucking believe that the person responsible is DEAD.  Episode 4 had me pulling my hair out at different points.  I never thought I could become so emotionally attached to a fictional little kid.
Around Every Corner just might be the most action-packed episode thus far.  The shooting mechanics feel like they've been tweaked, but since there's not a whole lot of shooting going on in the whole game, it's hard to tell.  There are some areas where you simply need to point your cursor in the general direction of a walker and press the action button (or click) and their head will turn into a bloody stump, but other areas require a bit more precise aiming that just didn't feel precise in previous episodes.  Thankfully that's fixed now – almost as if your sights are finally lined up properly.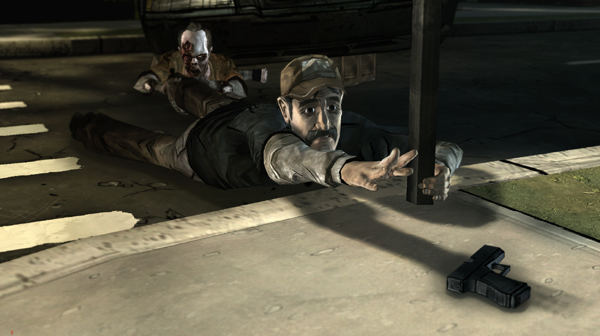 Despite there being a lot of action in this episode, it's not a non-stop action ride.  It's still the same kind of TWD game you remember from two months ago.  A good chunk of the game play is speaking with people, making crushing decisions and solving puzzles.  The puzzles aren't overly difficult, but it's nice that they're there.  If they happen to involve traipsing out in front of walkers, all the better, because it sets the nerves right on edge.
One of the other things I noticed is that the time given to make decisions has been shortened.  In previous episodes, it felt as if the game gave you an incredibly long time to make up your mind, but now that safety net is gone.  Perhaps it's just the gravity of the decisions that need to be made now?  When you've become as emotionally invested in the story, in the characters as probably many Walking Dead fans have, it's hard not to panic when it comes to making a decision about their fate.  Several times I found myself asking aloud (at 4:30 in the morning – no regrets) "What do I do!?"
My only disappointment with this episode is actually a disappointment with the entire series.  The Walking Dead has a habit of introducing characters only to take them away.  While it's inevitable that when people start eating each other that other people are going to die.  What would be nice though, at this stage in the game, is if these people had a little bit more creativity thrown into their deaths, particularly characters whom we've come to know.  Spoiler Alert!  Spoiler Alert!  Stop reading now!  Okay, really, stop reading now if you don't want to be spoiled about previous episodes!  For instance, back in Episode 2, we introduced Larry's head to a nice salt-lick (also no regrets).  At the end of that very episode, our good buddy Mark came back to give us a hand post-mortem.  When you have stuff like that happening, suddenly finding the corpse of someone you used to know feels a little cheap.  Especially so considering that more had been done to lesser characters.
Good God, that makes me sound terrible…I want to see more creative deaths. 
Overall, while this latest episode isn't quite the emotional roller coaster the previous episode was, it definitely has some wild turns.  Around Every Corner sets the characters and the story up perfectly for the grand finale, No Time Left, which should release sometime in December, along with a retail version of the entire game.