Here are some classic horror games that are compatible with Vita 1.8 update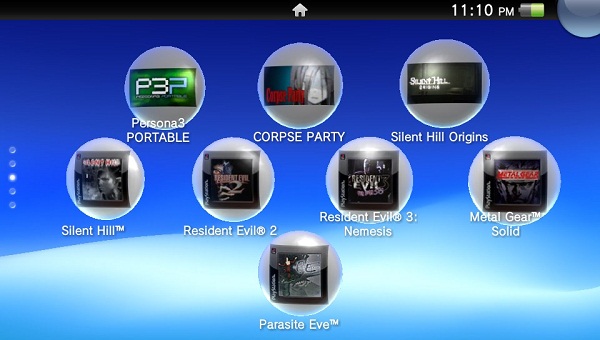 The Playstation Vita 1.8 firmware has just launched. I have loaded Silent Hill, Resident Evil 2, Resident Evil 3: Nemesis, and Parasite Eve (Parasite Eve 2 confirmed to work as well). While these games might not be available on the Vita Playstation store just yet, they are compatible with the console via transfer from the Playstation 3.
If you want to get you PSOne games onto you Vita, you have to connect via the supplied USB cord and open the Content Manager app on the Vita. Under 'Playstation', your uninstalled PSOne files should appear. If they do not, like they did to me the first few times, unplug the Vita cord from the console and replug it, and then try again. Now, there's a chance that not every single game works; just as with digital PSP titles, many worked on the Vita but some did not and had to be tweaked by Sony in order for them to.
I'm going to be quite busy with this update. It's been a long time coming! Now would also be a good time for Sony to lower the prices on their Vita memory cards. I would buy more games if storage was more affordable. My logic is undeniable. Do it, please.
If any other Vita owners out there notice a compatible PSOne horror game, let me know in the comments.