Rely Reacts: Resident Evil Reboot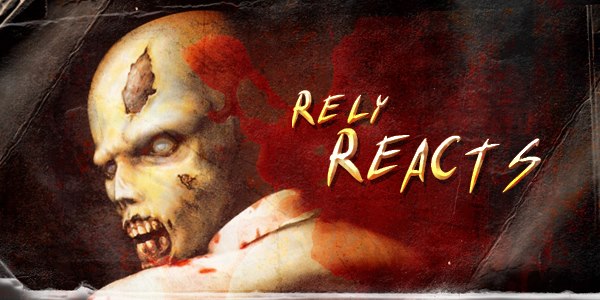 Every so often there are topics that come up within the gaming industry that incite expansive discussion and debate, with a definitive conclusion not quite attainable. The conclusion however is rarely the most interesting factor of such debates, the discussion itself is what is most enticing to many people. In the Rely Reacts series, the staff here at Rely On Horror will chime in on a particular topic, each offering our own personal points of view, arguments, and conclusions.  We aim not to offer a definitive conclusion of our own either, the only goal of this series is to highlight a variety of perspectives and continue to grease the cogs of conversation.
Recently news came out of Capcom that they would like to see their wildly popular Resident Evil series return to it's roots, stating that a complete series reboot is indeed a possibility for the franchise.  While traditionally fan reaction to such an idea is generally met with hostility, there is a great number of long time fans that are open to and supportive of the idea. Now that's not to say that the majority of fans want it to happen, there are just as many if not more fans against the idea of a franchise reboot as well. With such sweeping and varying opinions on a potential Resident Evil reboot, I thought it would be interesting to see what the staff here at Rely On Horror's collective thoughts were on the reboot proposal. Each of us has quite a history with the series, and much like everyone else our feelings on the Resident Evil franchise being rebooted varies significantly from one another. I posed this simple question to my fellow editors: "Do you think Resident Evil should or should not be rebooted, and why?" As you're about to see, the response produced the most varied of results.
Janus, Senior Editor
The idea of the classic Resident Evils being rebooted for current or next gen consoles would initially seem like a great idea. Given Capcom's propensity for remaking their older games, it seems like it's almost a sure thing to reboot the entire Resident Evil series in glorious HD. But that doesn't necessarily mean it's a good idea.
For one, the Resident Evil story isn't even finished. Hundreds of hours spent on a story that may not ever continue. Given how worthy Capcom sees the whole reboot idea, Resident Evil may not ever have a proper conclusion. What if they get right back up to Resident Evil 5 and then talk about rebooting it again? To me, rebooting the series is almost code for "We don't know here the hell to go from here to keep you buying our stuff."
Granted, there are some people who say right back to Capcom, "just keep going." There were tonnes of people who loved Resident Evil 6 just the way it was, but there were just as many, including many members of the press, who were pretty disappointed. I haven't even finished it yet.
So how does Capcom see to win those former fans back? By rebooting the entire series to try to strike a nostalgic bone in us? Well there's no guarantee that Resident Evil will be rebooted as an actual survival horror. Capcom is still a business and they're still responsible to their shareholders, who want the company to sell as many games to as many people as possible. They might claim to understand that survival horror will always be a niche market, but that doesn't necessarily mean that they'll create a new game that showcases that understanding and not another five Resident Evil 6s. Rebooting a series into what they've already claimed will not sell as well as an action game just doesn't sound right.
I think my biggest qualm with the idea of a reboot is that the story that we've already been told and come to accept as truth could be completely changed. What if in the reboot Jill didn't make it out of Raccoon City? What if Barry just didn't exist? What if instead of a steely-eyed strong and mysterious man, Wesker was actually a womanizing douchebag who always longed to see his son again (spoiler alert) so that it better fit the story of Resident Evil 6?
Kyle Campbell, Contributing editor
Resident Evil is to me is what The Legend of Zelda and Super Mario Brothers franchises are to many other gamers, that is it was the series seminal in shaping both what I've come to enjoy most about the videogame medium and what helped define me as a gamer. I've been with the series since the very beginning, staying up far too late on school nights exploring the Spencer Mansion, reading through S. D. Perry's novel adaptions numerous times, and begging my mom to buy me Resident Evil: The Director's Cut just so I could get my hands on the Resident Evil 2 demo disk. I was obsessed with the universe and it's characters, I could never get enough of it.
Now all that said, I could not be more in favor of the Resident Evil series being rebooted and getting a fresh start, because nearly everything I once loved about the series has been gone for quite some time. While it was not the first survival horror game ever to be released, Resident Evil was undoubtedly what brought the genre to the forefront and made it popular in the mid to late 90′s. Which is always a funny thing to think about now, because the more recent entries in the series like Resident Evil 5 and Resident Evil 6  are about as survival horror as Skrillex is classic rock. It's no secret that the past few entries in the series have had more of an action focus, that in and of itself is not a bad thing. Resident Evil 4 was a massive departure for the series and brought about action focused gameplay, but it remembered that it was still Resident Evil, the regenerator sequences were amongst the most intense the series has ever had in my opinion. More importantly however is Resident Evil 4 was a magnificently well crafted game whether it was horror or not, the same however cannot be said for the likes of Operation Raccoon City or Resident Evil 6.
As for things like unresolved story, plot, and character resolutions that would undoubtedly come about as the result of a reboot, I only have one thing to say about that: I don't care at all. Now how can someone that's been with the series as long as I have say this you ask? Well the answer is blunt and simple, and that is in my opinion the quality of the writing in Resident Evil ranges from passable to awful. The characters are so flat and boring that they can barely be considered stereotypes, and they hardly(if ever) have arcs. The overarching plot and story are so convoluted and abundant with plot holes that it's laughable just to think about it in any sort of serious light at times. Resident Evil 6's story in particular was embarrassingly bad, many of the cutscenes were nothing more than action movie schlock. Now just to reiterate, this is just my opinion, and if you like the storytelling in Resident Evil then that's fine, for many years I loved it too. However now that I've matured considerably since the days of the original Playstation, I just can't take the story seriously anymore.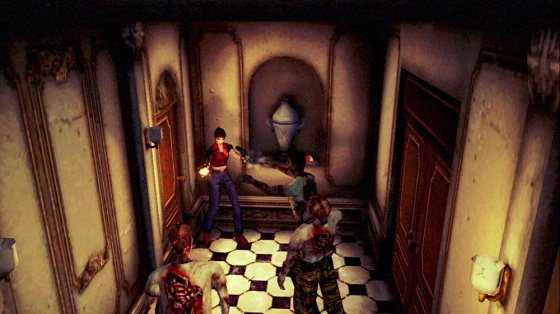 What I care about more than anything, is Resident Evil being a horror game again, I want it to return to it's roots. I'm not saying it has to have the old static camera angles or typewriters to save your game, only that it is once again the front runner in the survival horror space.  Reboots are often exactly what a franchise needs to gravitate to new heights of quality. I mean just look at what Christopher Nolan did to the Batman film franchise for proof of that, Joel Schumacher nearly killed off that franchise forever with the dreadful Batman & Robin. Then Nolan came along brought with him everything that was already good about Batman, threw out the schlock from the previous series and brought his own take on the characters while still treating the source material with respect. Maybe in the hands of a new developer, no longer confined to the mess the series has become, the same could happen to Resident Evil, at least that's what I'm hoping for.

Casper Bronmans, Contributing editor
Going back to the roots of something is an easy thing to say, but to get there you first need to tip over a tree. Give it a few chops and the tree will go down, but if you don't plan ahead, then it will likely cause a lot of damage in its fall. In simpler words: "fans are going to be really pissed off if you screw it up." My experience with this series has been very limited, so I find myself in a unique position. As a guy who was in primary school at the time this franchise started rolling, I have always found getting into it a little too difficult, since the many entries and famously convoluted lore always scared me off.
When I joined Rely on Horror, a friend of mine gifted me Resident Evil 4 and that was my first major experience. I tried the demo for five and played six at First Look 2012, but it just seemed too daunting a task to get a grip on the story after all I had missed. This reboot is an opportunity for me to correct that.
I want the series to start all over again, but with the overall story planned out well ahead to avoid another dive into evil midget territory. Keep it serious, keep is scary and (most importantly) keep the characters. Jill Valentine, Albert Wesker, Leon Kennedy… those are all fantastic characters that are integral to the popularity of the franchise. I would also prefer to see a return to the old camera angles and controls of the first game, albeit a bit more polished. It may seem very backwards and inconvenient, but it's what gave the first few games a sense of uniqueness (I know Alone in the Dark did it first, but this still applies). As for which studio should handle the game… I am going to say one with some fresh and new talent, but with some guidance from a veteran developer or two; It would be an interesting experience. It should also definitely stay under Capcom and it should most definitely not be outsourced to another big name developer.
Those are my wishes at least.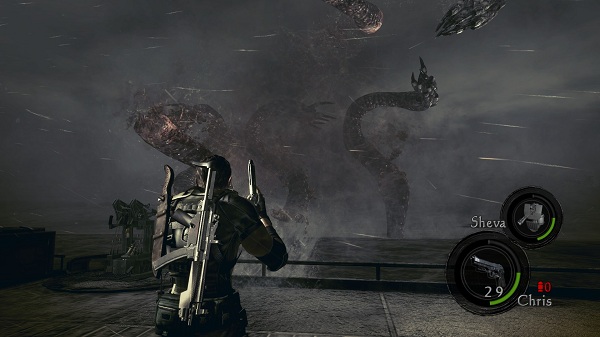 Brent Cook, Contributing editor
As a long time fan of the Resident Evil series, I find myself torn after the announcement that Capcom may in fact be rebooting the series. On one hand, I've been waiting for a fitting ending for these  characters who I've spent so much time with, that I've "grown up" with, and while I didn't hate Resident Evil 6, it sure didn't provide much in the way of answering those burning questions that I've had about the mysteries of the series. Instead of clearing up some of the murky and hidden back stories that we've been teased about, RE6 only succeeded in creating new stories, doing nothing to solve the questions lingering from past installments. Chris, Jill, Leon, and the others all deserve their proper ending, and it would be a shame to see Resident Evil 6 as their last attempt at putting an exclamation on these characters.
At the same time, I find myself craving the Resident Evil of old, desperate to return to the creepy, dark, narrow hallways, creaky doors, and everything that made the original games so memorable. While Resident Evil 4 remains my favorite game in the series, it unfortunately seems to have started a chain reaction that has completely removed the series from its survival horror roots, forcing Capcom to thrust it into the Action/Third Person Shooter genre. I know it's been said before, but Chris punching a boulder? Really? There's just no place for that in Resident Evil, or survival horror for that matter. In the original game, if a door was locked, Chris had to scour the mansion for key with a shield on it, not punch the door down in a fit of rage. You had to think; you had to use your resources and strategize to explore each room and figure it out. Love it or hate it, THAT was Resident Evil and that's the Resident Evil that I want back.
While a reboot would take away something solid for us fans to hold onto as an ending for our heroes, and maybe even the likelihood of us ever seeing the much requested Resident Evil 2 remake, returning to its survival horror roots seems like it's the only option for the series in order to bring back its all of its fans and become great once again, and that's just not possible with Resident Evil in its current incarnation.
As promised, our four editors that contributed to the first entry in the Rely Reacts series brought an abundance of interesting points to ponder further on the prospect of Resident Evil being rebooted. We're wondering what our readers think though, do your feelings match up with any of ours here on Rely On Horror or do you have your own perspective and opinion on the potential reboot? Let us know in the comments below!
(Special thank you to Whitney for creating the fantastic featured image)