Rely on Horror's Game of the Year 2013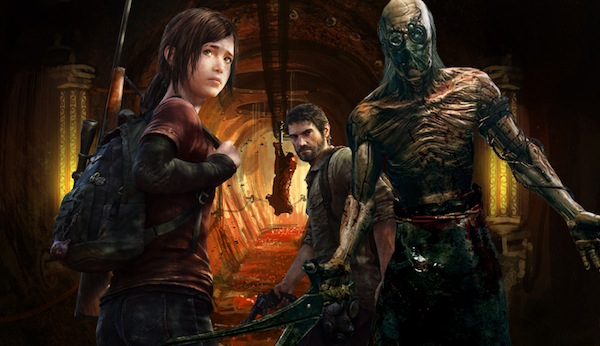 2013 will go down as one of the best in gaming. Not only did we see the start of the next generation of consoles (and the Wii U's second year), but we also got one of the best lineups of games throughout the year. BioShock Infinite, DmC, Tomb Raider, Castlevania: Lords of Shadow – Mirror of Fate, The Last of Us, Outlast, Super Mario 3D World, The Legend of Zelda: A Link Between Worlds, and Grand Theft Auto V are just some of the big titles that blessed gamers' hearts this year. Us horror fanatics also enjoyed a stellar year, thanks to indie developers and their passion-fueled projects. But there can only be one…
That "one" comes in the form of our pick for our fourth annual Horror Game of the Year award, joining the likes of Alan Wake (2010), Dead Space 2 (2011) and The Walking Dead: Season 1 (2012). That game is Naughty Dog's The Last of Us.
The Last of Us is a masterpiece in interactive entertainment. It told a story that made us really care for its characters doing their best to survive in the game's horrifying world, 20 years into a fungal outbreak. The heart of the story is the pairing of Joel and Ellie. As gamers, we've come to cherish a lot of pairs in games over the years. Jak and Daxter, Donkey Kong and Diddy, Sonic and Tails, Ratchet and Clank, are some of those iconic pairs. Joel and Ellie are more than worthy of joining that list. Their relationship is written in such a realistic way that makes the horrors they face even more profound and nerve-wracking for us playing through them.
Like Joel, you start to deeply care for the safety of Ellie. And you also come to realize that, hell, she can hold her own. The story results in an ending that, while leaving some unsatisfied, makes you question your own morality, making you put yourself in the same situation we find the characters in before the credits roll. That's powerful writing.
Naughty Dog put their all into this game, and it shows. It's beautiful, ranking amongst the best-looking PlayStation 3 games. Its world brings about an atmosphere that's as haunting as it is immersive. Just walking around brings about a sense of joy, dread and wonder alone. The environment itself tells a story. And it wouldn't be a horror-themed game without some creepy enemies to go along with it.
The Last of Us does have weapon-wielding human enemies, but it also has some of the creepiest monstrosities in 2013. They come in the form of the infected. The Clickers, as they're known, have become some of the most chilling foes I've ever faced in a horror game. The fungal overgrowth on their heads is just a disgusting sight, made even more creepy by their clicking noise. There are several versions of them in the game. But every encounter with them proves to be tense and keeps you on your toes. They may be blind, but you don't want them detecting you. Now, I'll go back to writing my fantasy Licker vs Clicker story.
The Last of Us may have its feet wet in a pool filled with other post-apocalyptic titles across various mediums, but it stands out thanks to its amazing writing and true sense of survival. I'll be replaying this game for years to come.
Kyle:
My first playthrough of The Last of Us was a bit of a mixed experience. I found the rampant autosaving to be intrusive and ruined much of the tension in the game because there was no penalty for death. However, the more I reflected on my time with it, the more I admired it for a whole variety of reasons.
First and foremost, it employs a level of characterization rarely seen within gaming, there's a lot of subtly in the performances in this game that makes Ellie, Joel, and everyone else in the cast really stand out. Even many of the side characters, such as the paranoid survivalist Bill, have such rich personalities that they have infinitely more depth to them than most full-on protagonists in the gaming medium. Basically, the writing in this game elevates it above any sort of other gripes I have with it, and that's why I believe it's the best horror game of 2013.
CJ:
The Last of Us is a fine game to play and witness. With combat that's as grim as its narrative, it explores mankind's penchant for violence. It may be yet another "zombie" title about humans being the true monsters, but it handles this theme masterfully.
Naughty Dog has given us a story that's filled with hope and despair. Hope for a world to return to what it once was: a mask of order and civility that hides what humans are truly capable of when all structure is lost. Hope for a father figure to save the world (or maybe just his).
The Last of Us is a culmination of a quantity of powerful, brilliant, and engaging elements that come together to form a fantastic piece of interactive storytelling. Breaking someone's skull with a brick is pretty fun, too.
Tarrah: 
What was arguably the most anticipated and critically acclaimed title of 2013 overall seems like such an obvious answer for a personal game of the year. While I had a couple of quibbles with the story overall, the game as a whole blew everything else that I had played in 2013 when it comes to horror games right out of the water. The story was impactful, the gameplay was more than your standard run and gun and the visuals were beyond impressive, but what stood out the most to me, and still does, is the beginning of the game.
The way The Last of Us tackles an outbreak scenario is perfect. The neighbour crashing in through the window brings the panic a little too close to home, so Joel and Sarah flee. Looking around at the destruction, the family on the side of the road desperate for help and being able to do nothing about it – pretty moving stuff. But once you're in a more populated area and you're on foot, that's what really did it for me. Everyone is running, in utter panic. There's no one standing up above the crowd shouting commands to everyone, you're just running. And if you stop to look at the carnage, you're dead.
The only other part that I felt could compare to this was the fight at the steakhouse. Using Ellie's hearing, seeing a white silhouette running towards me with a long knife blade ready to cut me open – I was scared in a way I hadn't been for a while. I knew exactly what he wanted to do with me but for some reason I imagined that if he ever caught me, my fate would be so much worse.
Zach:
Though AAA titles are becoming increasingly rote, with more people taking notice, The Last of Us proved to us this year that expensive doesn't have to equal dumb. Sly subversions of tropes demonstrating an awareness of clichés, quiet moments and the best sense of pacing I've seen in a game are all present and accounted for. While it wasn't without its flaws (less checkpointing, please!) TLOU stands out as an intelligent, thought-provoking journey across America.
***
How does The Last of Us rank amongst your own lists of the best games of 2013? Do you agree with our pick? Sound off in the comments below!