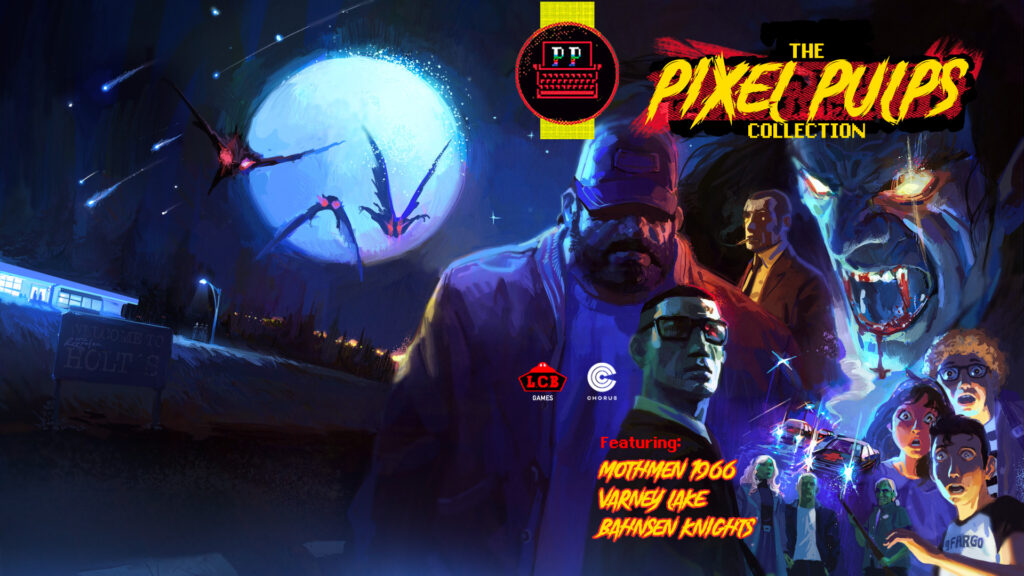 The Pixel Pulps Collection, a physical-only three-in-one collection of visual novels inspired by mid-20th century pulp fiction and '80s home computer graphics from publisher Chorus Worldwide and developer LCB Game Studio, arrives on store shelves in Q4 2023 for Nintendo Switch, PlayStation 4, and PlayStation 5, courtesy of Funstock.
Today European games distributor Funstock, alongside publisher Chorus Worldwide and LCB Games, officially revealed The Pixel Pulps Collection, a definitive physical compilation of the thrilling narrative tales told across Mothmen 1966, Varney Lake, and Bahnsen Knights. Players will be able to experience these three bone-chilling, branching-path novels all set in a shared universe.
Bahnsen Knights – In this third,  yet-to-be-released title in the anthology, go undercover on a hellish journey to infiltrate a cult preaching hell is not below the earth, but above.
Mothmen 1966 – Follow the tale of a local gas station owner, a young couple, and paranormal investigator (and recurring character) Lou Hill as they work to uncover a web of conspiracies that threatens their understanding of the world.
Varney Lake – As Lou Hill, investigate a vampiric mystery of 1954, digging into clues and investigating the memories of two of the three now-adult witnesses…and the disappearance of the third.
Speaking about the collection, the president and founder of Chorus Worldwide, Shintaro Kanaoya, said:
The pulp influence of these three stories deserves to be immortalized in physical form forever, and Funstock has been a tremendous partner in putting together a package that does justice to LCB Game Studio's thrilling trilogy.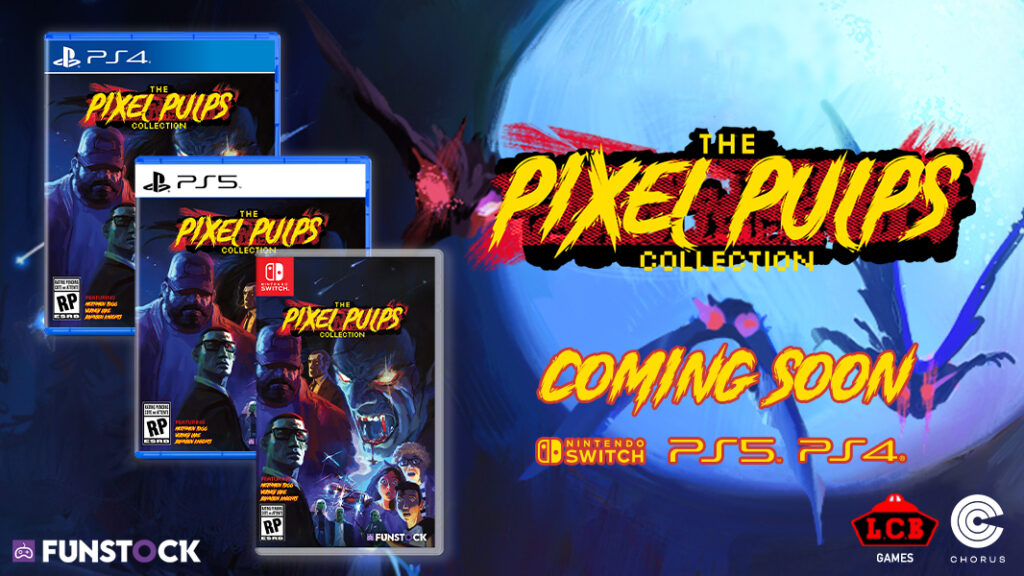 The Pixel Pulps Collection releases Q4 2023 at video game retailers worldwide. Bahnsen Knights will also be available digitally on Nintendo Switch and PlayStation 4 & 5, along with versions on Steam for PC and Mac, Xbox One, and Xbox Series X|S at a later date.
Mothmen 1966 and Varney Lake (which each feature a Bahnsen Knights demo) are available now digitally on Steam for PC and Mac, Nintendo Switch, PlayStation 4 & 5, Xbox One, and Xbox Series X|S.
For more info, you can join LCB Game Studio's Discord, follow LCB Game Studio and Chorus Worldwide on Twitter, and visit the official Mothmen 1966 page on Chorus Worldwide's website.
You can also check out the Physical Edition Announcement Trailer below.