Take a bloody look at The House of the Dead: OVERKILL's box art and new screens
SEGA just couldn't keep the surprise any longer so they decided to announce and give us a first look at House of the Dead: OVERKILL for the PS3 before E3 commenced. As you may recall, especially if you're a Wii owner, OVERKILL was a new entry in the zombie-filled, rail-shooter series which didn't hold back at all–making its once-exclusive home on the Wii quite surprising. The game is now going HD and 3D on the Playstation 3 with Playstation Move compatibility just in time for Halloween– October 25th to be exact.
This isn't just a prettier version of the game, though. SEGA has made sure to add a good amount of extras into OVERKILL that should please PS3 owners. You can check out all of the game's features– including the PS3 exclusives– summed up below. Also, make sure to check out the new images, including the game's box art and character-centric posters, in the gallery below.
PlayStation Move and Sharp Shooter compatible
OVERKILL fully remastered – available in high definition, with stereoscopic 3D for the first time ever
Extended with 2 additional levels not featured in the original game
Exclusive crossbow weapon
New baby mutant type
New Hardcore Mode – mutants can only be killed with headshots
New Classic Mode – play through the entire game using only the AMS Magnum
Exclusive Missing Reel – an extended boss fight with "Mother" in "OVERKILL", the game's final level
Online leaderboards to track high scores and player statistics
Collectibles to grab throughout all levels to unlock bonus materials; comic pages, music tracks, 3D models and 2D artwork
New PlayStation Trophies to unlock
Improved boss fights in all levels
New and improved cutscenes using motion capture
And more still to come!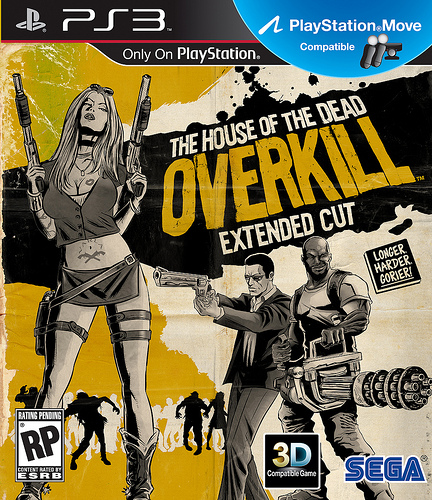 [Source]