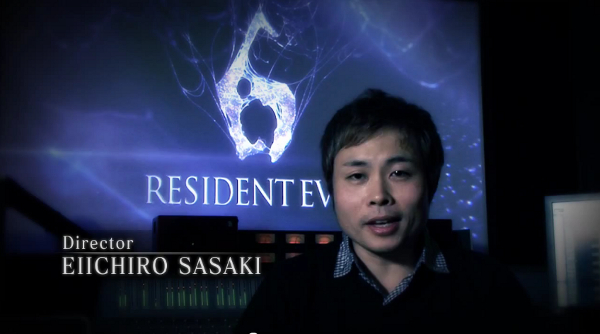 Capcom has released a new video with Resident Evil 6 executive producer Hiroyuki Kobayashi, producer Yoshiaki Hirabayashi, and director Eiichiro Sasaki. The creative trio discuss the scale of Resident Evil 6, how large the team is, and their ambitions behind the project.
In the video Kobayashi states that there are over 600 people who have contributed to the production of Resident Evil 6 outside of the Japanese team of 150.  He also says that the game's goal is to reach back into the series and utilize the fundamentals that the series is known for.
Producer Yoshiaki Hirabayashi calls Resident Evil 6 "dramatic horror" because of the team's focus on horror and action. More horror always sounds good, right? Let's hope the new team can blend action and horror together in such a way that we can be terrified but also excited. I'm sure I'm not the only one that wants to be afraid of a Resident Evil game again. Massive biceps just don't do it like a swarm of rotting zombies, tense environments, and B.O.W.s can.