Nitroplus' upcoming fighting game to feature character from School-Live! anime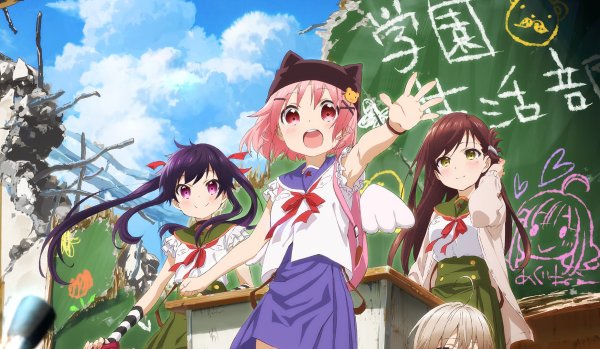 The upcoming Playstation port of Nitroplus Blasterz: Heroines Infinite Duel, currently available in Japanese arcades, is going to be changing up the roster a bit. Most interestingly, Yuki Takeya from the currently-airing horror anime School-Live! is set to make an appearance as a support character.
Currently at episode 6 of what is set to be 12-episode series, School-Live! is a deceptively cute-looking horror anime from Studio Lerche, who have been very prevalent in the anime scene as of late. The story is based on Norimitsu Kaihō's ongoing manga of the same name and stars a group of female students that have adopted a lifestyle whereby they never leave their school. There is a lot more to it, but due to the plot's reliance on twists I can't say much more without spoiling important revelations; you'll just have to watch the first episode yourself and judge whether or not it's for you afterwards.
Yuki, seen in the picture above on the forefront wearing angel wings and a stupid hat, is the most energetic and joyful member of the group. I am kind of surprised they went with her instead of the more athletic Kurumi, but I am curious what kind of use she will serve in the final game. Nitroplus Blasterz is set to release on December 10, 2015 for Playstation 3 and Playstation 4 in Japan, with a North American localization by XSEED following soon after.
[Source]