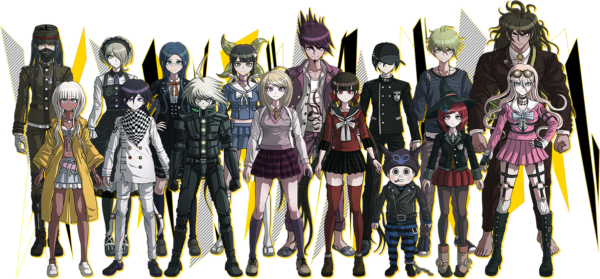 Hot on the heels of last week's teaser site update, the latest issue of Weekly Famitsu has offered a few new nuggets of info regarding New Danganronpa V3. 
First and foremost, the game's Japanese launch is officially confirmed to be the 12th of January, 2017. Additionally, the game will be receiving a Limited Edition for both PlayStation 4 and PlayStation Vita. The LE includes a soundtrack CD, a Danganronpa-themed calendar, a Monokuma strap, a custom PlayStation theme, and an all-new OVA entitled Super Danganronpa 2.5: Nagito Komaeda and the Destroyer of the World on Blu-Ray.

Famitsu also revealed the names and Ultimate talents for the whole cast, which are as follows (from top-to-bottom and left-to-right):
•Korekiyo Shinguuji (Ultimate Folklorist)
•Angie Yonaga (Ultimate Artist)
•Zanbi Toujo (Ultimate Maid)
•Koyoshi Ouma (Ultimate President)
•Tsumugi Shiragane (Ultimate Cosplayer)
•Kiibo (Ultimate Robot)
•Tenshi Chabashira (Ultimate Aikido Practitioner)
•Kaede Akamatsu  (Ultimate Pianist)
•Hiroto Hyakuta (Ultimate Astronaut)
•Maki Harukawa (Ultimate Nursery Teacher)
•Shuuichi Saihara (Ultimate Detective)
•Ryouma Hoshi (Ultimate Tennis Ace)
•Rantaro Amakai  (Ultimate ???)
•Himitsuko Yumeno (Ultimate Magician)
•Gonta Gokuhara (Ultimate Entomologist)
•Mito Irima (Ultimate Inventor)
Though an English localization of NDRV3 has not yet been announced, it's worth noting that developer Spike Chunsoft's English-language Twitter account has been actively promoting the game. Official confirmation is inevitable of course, but it may be coming sooner than most are expecting.