Anemoiapolis: Chapter 1 is a new psychological horror-puzzle game inspired by the viral "liminal spaces" horror subgenre (popularized by "The Backrooms" internet mythos) where you'll embark on a journey that has you confused and lost in a sprawling yet unoccupied resort, with a goal to forge your own path to freedom.
The game exudes mind-numbing dread and scenarios which weaponize a vast network of mundane rooms and facilities, making it the most relaxing horror game you'll ever play.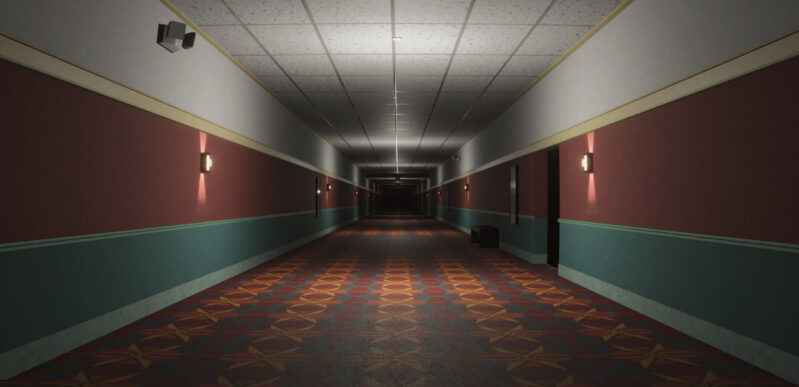 The universe of the game exists in the uncanny valley of American architecture featuring endless carpeted floors and lonely malls.
Solo developer Andrew Quist has drawn an ample amount of inspiration from his Michigan hometown, diving deep into the concept of "liminal spaces."  Anemoiapolis: Chapter 1 is a personal interpretation of the concept, offering unique sequences and scenery that set it apart from like-minded titles.
Explore Procedural Labyrinths:

This game is designed from the ground up to make you lost and confused. If you feel like you're going in circles, then you're on the right track.

Wander a Vast Network of Mundane Horrors:

Anemoiapolis

finds horror in the familiar — places so ordinary that they cause discomfort and a dose of existential dread.

Put Your Mind To The Test:

With nobody around to let you out, you'll have to forge your own path to the exit. Push obstacles and smash windows — whatever it takes to get to the next room.

Navigate Dynamic Environments, However, You Can:

Don't count on that door being there the next time you swing around. Things aren't always as they appear. 

Music Made To Chill:

A soundtrack created by JORDANN and 4REST adds to the mysterious atmosphere players will feel throughout. 
Anemoiapolis: Chapter 1 releases for Windows PC on Steam and itch.io on February 27th, 2023, for $8.99, with a 10% off launch week discount.
Be sure to check out the Release Date Announcement trailer below.