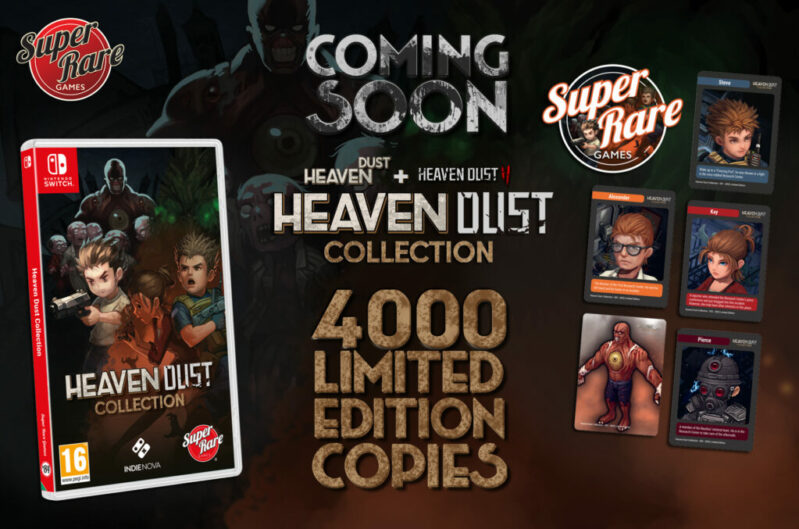 Super Rare Games is partnering up with One Gruel Studio and indienova for a double release of their zombie survival horror games, Heaven Dust and Heaven Dust 2, both coming physically to the Switch as the Heaven Dust Collection for the very first time.
This rare physical release includes both games on the cart, a full-color manual, interior artwork, an exclusive sticker, and trading cards. Super Rare Games says fans won't have to wait long, as the collection will ship shortly after release.
A total of 4,000 copies total will ever be printed and will go on sale on February 2nd at 6 pm GMT (10 am PT/1 pm ET). The game will be available worldwide exclusively at superraregames.com.
An ode to 90s horror game series like Resident Evil, the Heaven Dust Collection takes the player through a classic survival horror experience, with plenty of exploration, action, puzzles to solve, and resource management.
FEATURES:
Playtime: Boasting around 15 hours of total playtime, with Heaven Dust 2 coming with twice the content of its predecessor.
Multiple endings: Both games come with multiple endings. Which one will you get?
Inventory management: Collect and combine, use various items to solve puzzles, with the sequel offering even more options for upgradability and strategic thinking.
Combat system (Heaven Dust 2 only): Fight your way out with a dagger, submachine gun, shotgun, and grenades. Modify your weapons, and upgrade them to the limit. Choose your weapon to counter different enemies, plan your strategy, seek their weak points, and destroy their defenses.
Enemy variety (Heaven Dust 2 only): Along with ordinary zombies, other mutated monstrosities have joined the battle: Heavily armored Bone Fiend, regenerating Blood Fiend, approaching boomlad, all without forgetting the epic boss fights.
Multiple difficulties (Heaven Dust 2 only): Players have the choice between Casual, Normal, and Expert difficulties, making the game something anyone can enjoy.
For more information, you can check out the official sites for Heaven Dust 1  and 2, and follow Super Rare Games on Twitter for news and updates.
You can also check out the trailer for Heaven Dust 2 below.