The Evil Within 2 And Wolfenstein 2 Prequel Comics Available Now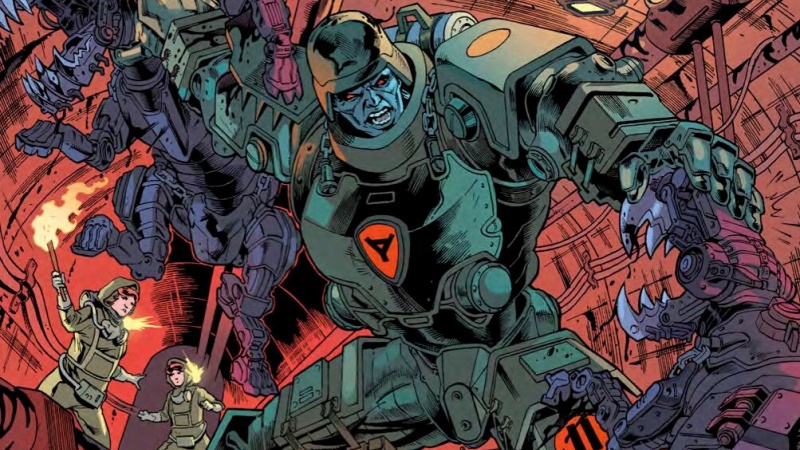 Comic book tie-ins to successful video game franchises are nothing new. Series like Assassin's Creed, Halo, and even Silent Hill have found fans in the graphic novel world, and now two of 2017's best games join those franchises in the medium. Available today from Titan Comics, Wolfenstein Volume 1 and The Evil Within: The Interlude bring the respective worlds of their franchises to comic book pages in collected trade paperback form.
Set between the first and second games, The Evil Within: The Interlude returns to the story of Sebastian Castellanos, shedding  light on his time after the horrific events at Beacon Mental Hospital, and how he dealt with the death of his daughter. The series features a wonderfully morose art style that is somewhat reminiscent of Silent Hill: Downpour's comic book tie-in.
Wolfenstein Volume 1 is likewise a prequel, continuing BJ's nazi-hunting exploits and filling in some blanks between Wolfenstein: The New Order and The New Colossus. The comic features a colorful art style that is somewhat reminiscent of 70's and 80's comic book color palettes, which is something I find very appealing indeed.
Both graphic novels are available today for $16.99 USD from various retailers. You can find The Evil Within: The Interlude and Wolfenstein: Volume 1's Amazon pages here and here respectively.
In our review of The Evil Within 2, we gave the game a 9.5 out of 10. You can read that review right here.