DayZ on PS4: If you feel betrayed, you've got a problem
Today Dean Hall took the stage at PlayStation's Gamescom conference and announced that DayZ would eventually make its way to the PS4. Stating that development on a cross-platform renderer would benefit the PS4 version, but also the existing PC version.
[Edit: Removed a misinterpreted comment about the PS4 version being released in under three years.]
The announcement made waves, exciting many people at the prospect of playing this highly successful game on their console. But what did people within the existing DayZ community say towards this? Were they excited that more people will be able to experience the game they enjoy so much? Of course not. This is the internet and elitism, irrational conjecture, and straight up whining ensued.
Here's a few comments I've seen come from the DayZ community in regards to today's announcement: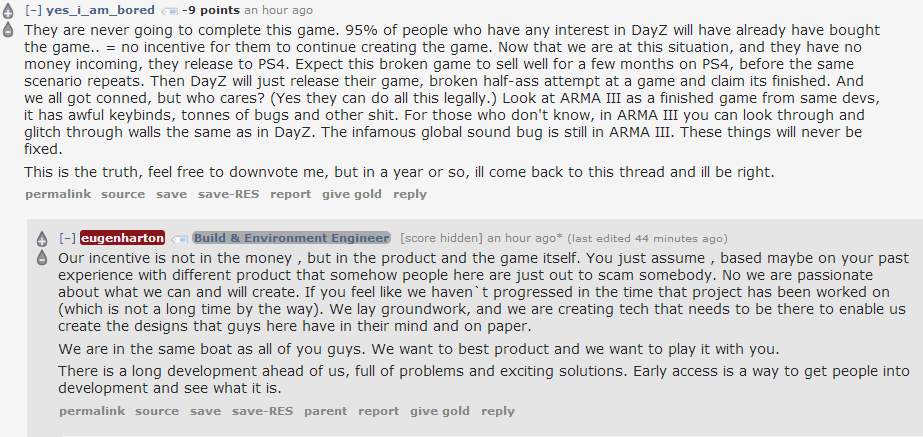 What we have here are a few selections that showcase anger towards Bohemia Interactive making DayZ available to console owners. Let's get a few things clear, first regarding Dean Hall and the company's comments toward the port and how it will affect PC development.
"Console versions have allowed us to factor in a new renderer, ie DX11, any many other things not part of PC scope. Console versions come AFTER PC in priority but PC gets the benefits of things needed. As far as I am concerned, it's a win win," said Dean Hall.
"The way I see it, this is a guarantee we have to meet performance standards now. And it sees the PC leading, innovating, with the refined result trickling down to console gamers. A win win all round".
DayZ has been in development for quite some time, that is true, and one of the biggest complaints is that development is too slow. Also, that the current early alpha build of the game is too broken (go figure an alpha has technical issues. If only there was something to warn people about that…). People are seeing this announcement as a betrayal in their trust and money – as if their patronage for a product can dictate whether or not Bohemia Interactive, a company, is allowed to make a business decision that brings DayZ to another platform.
People fear that PS4 development of the game will take priority, or take away attention from the PC version that's still in development. That is not true. Looking at Dean Hall's comments above, the inclusion of a PS4 port will mean a more optimized and quality game. But why infer that from his first quote? Let's just look at another.
"The caution is well founded. The way I see it, this is a guarantee we have to meet performance standards now. And it sees the PC leading, innovating, with the refined result trickling down to console gamers. A win win all round," Hall said on Reddit.
Will the development of the PS4 version detract from PC development? No, because a new team is being hired to develop the PS4 version: "Correct. Separate team with cross platform codebase. Results shared," Hall said in response to someone with that concern. He later said in a different Reddit comment thread the following about the priority of the PC version, "Not only first, but i stood on sonys stage and said the pc was most important. They supported that. When has that ever happened?"
I can understand why concerns over the game's completion and focus on hardcore survival mechanics might be affected by broadening the accessibility of the game, but the initial response to this announcement is depressing and uninformed. It's reactionary and indicative of the "cool kids club" mentality that plagues many online groups. There's been no sign that the game will have its mechanics made easier for the sake of a console audience at all.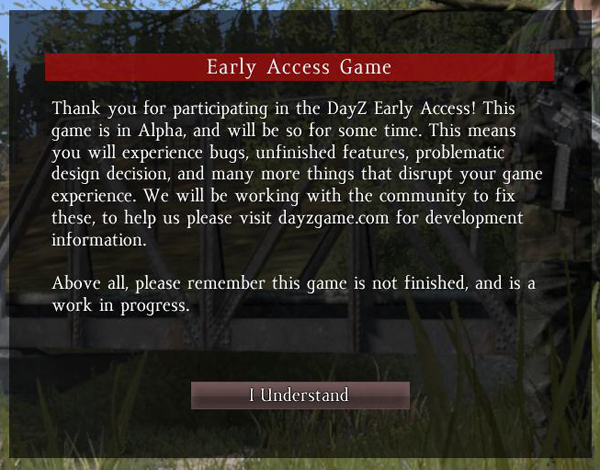 As a fan that has put in 300 hours into DayZ Standalone on PC, I welcome PS4 owners to the game that I enjoy so much. But some people don't share the excitement of sharing their toys with other kids. Instead they want to be selfish and rude. They want to call out the creators of the thing that they enjoy, because those creators sought out an opportunity to allow more people to play their product. A PlayStation 4 port of a game that made its start on PC is not betrayal or morally wrong, because you think you're entitled to dictate whether or not a company is allowed to make their product reach as many people as possible.
As you can seen in one of the comments above, Eugenharton, the Build and Environment Engineer of DayZ stands behind the port announcement, saying that it's not about the money, but the game. "Our incentive is not in the money , but in the product and the game itself. You just assume , based maybe on your past experience with different product that somehow people here are just out to scam somebody. No we are passionate about what we can and will create," he wrote.
It's disheartening seeing a community that should be united by the thing that they enjoy act out toward the prospect of more people joining in on the fun. It's also a shame seeing baseless and mean-spirited remarks sent toward developers that have been working to make a game better and better with every update (which has been the case these last few months with the team introducing a lot of fixes and new mechanics on a near-weekly basis).
Personally, I hope to see DayZ Standalone improve due to the game's increased focus on quality thanks to an impending console release and the performance console owners and manufactures expect associated with it. I won't lose my shit and assume the game I enjoy is going to become catered to casuals, nor will I have disdain for a console owner gaining the ability to enjoy a game reserved for the "PC Master Race". Let's just relax, not assume the worst, and be happy that more people will be cry when they're killed on sight by pantless bandits, OK?