Featured Giveaway: THE SNOWMAN – Exclusive Prize Pack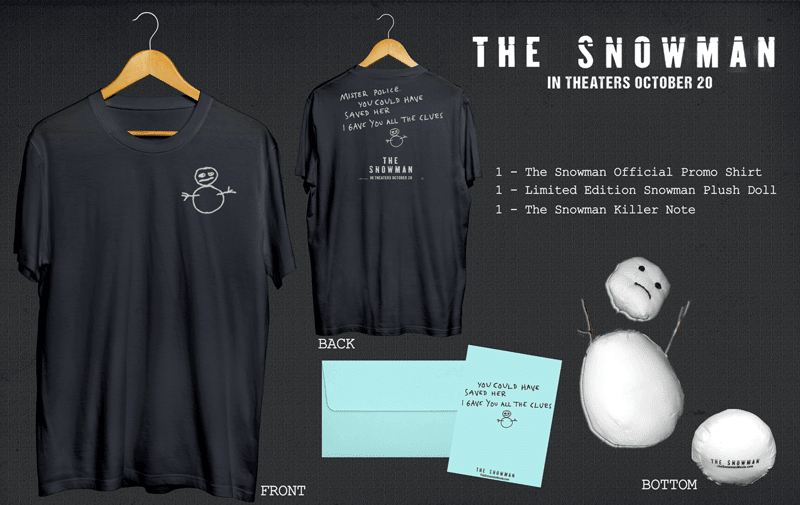 The Snowman, a terrifying thriller based on the novel by Jo Nesbø is being released on October 20th in theaters worldwide. When an elite crime squad's lead detective, Harry Hole (Michael Fassbender), investigates the disappearance of a victim on the first snow of winter, he fears an elusive serial killer may be active again. With the help of a brilliant recruit (Rebecca Ferguson), the cop must connect decades-old cold cases to the brutal new one if he hopes to outwit this unthinkable evil before the next snowfall. The sociopath who calls himself "The Snowman Killer" has targeted the one person for whom he wants to showoff his methodical, unthinkable skills: Harry Hole. With cunningly simplistic baits, he begs to have a worthy opponent to play his sick game.
To celebrate the release of this film, we're hosting an exclusive giveaway in partnership with Universal Studios for a pack of extremely limited goodies.
The Snowman Prize Pack includes:
1 – Limited Edition Snowman Plush Doll: this item is only available via this promotion and has a run of 200 pieces worldwide. It is a replica of the killer's Snowman and features a detachable head and the Snowman logo on the bottom.
1 – The Snowman Official Promo Shirt – An official promo T-Shirt featuring The Snowman logo on the front and the signature design on the back.
1 – Replica Snowman Killer Letter – A replica of the Snowman killer's note, sealed.
To enter the giveaway, simply fill out the form below. Each addition step completed increases the number of entries you have. The giveaway is open to 18+ or older residents of the U.S and Canada only. The winner will be selected on October 27th and their address must be submitted no later than October 31st. Good luck!
Each household is only eligible to win via blog reviews and giveaways. Only one entrant per mailing address per giveaway. If you have won the same prize on another blog, you will not be eligible to win it again. Winner is subject to eligibility verification.