Silent Hill apparel coming from Insert Coin!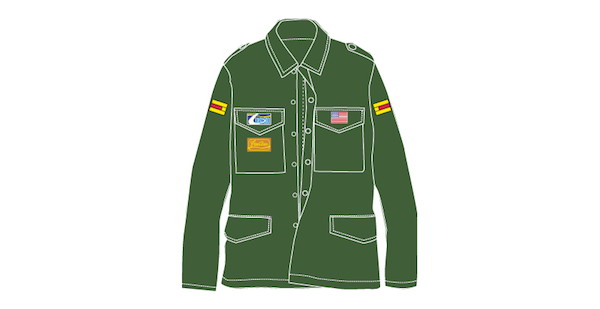 Insert Coin, known for doing some pretty awesome video game related apparel like their Assassin's Creed 3 hoodie, has announced a new line of clothing inspired by Silent Hill 2!
Insert Coin's official press release states:
"We're huge fans of all things 'USA' at Insert Coin Towers – and one of our favourite places stateside is the eponymous town at the heart of the Silent Hill franchise. Perpetually shrouded in mist and rain – and with an unrivaled sideline in creepy shenanigans – it's the perfect place for some seriously scary gaming action. That's why we're extremely proud to be working with our friends at Konami on a new range of apparel, inspired by the world of Silent Hill 2…"
First off, there's this  gorgeous James Sunderland jacket- and while it's only in concept art right now, it's looking to be an exact replica of his iconic green jacket, complete with four pockets and the strange logos all over it (seriously, what's up with those?). This is by far my favorite item available, and I hope it'll only be around 150$ (no prices have been announced yet). I've honestly always wanted one of these, and I can't wait to get my hands on it!
Next up is the Silent Hill Radio Repairs t-shirt, which shows off a graphic version of Silent Hill 2's radio (the same kind that shows up in game and as the PS2's save icon for the game). It's got a real hipster groove to it that I'm really digging.
Then, it's the Lakeview Hotel t-shirt, which feels like a perfect representation of the sort of thing you could have bought in the hotel's giftshop before it burned to the ground, thanks to one hot guy sometime in the early 90's. Definitely the nerdiest of the shirts, and if you go on a date with someone who gets it right away, they might be a keeper!
And finally, there's the Silent Hill Historical Society t-shirt, which features the most modern design of the three T-Shirts available, celebrating the game's in-universe anniversary. It's minimalist design shows a strive to modernize the historical society, although… I feel like there's something more to the design that they might not realize.
All in all, Silent Hill hasn't had a whole lot of memorabilia, not even close to it's older sister Resident Evil, and it's wonderful to see such awesome in-universe clothing (something I'm a big fan of) coming from such an esteemed production company. I want it all! How about you? Excited to see some really awesome Silent Hill apparel coming your way?
[nggallery id=112]