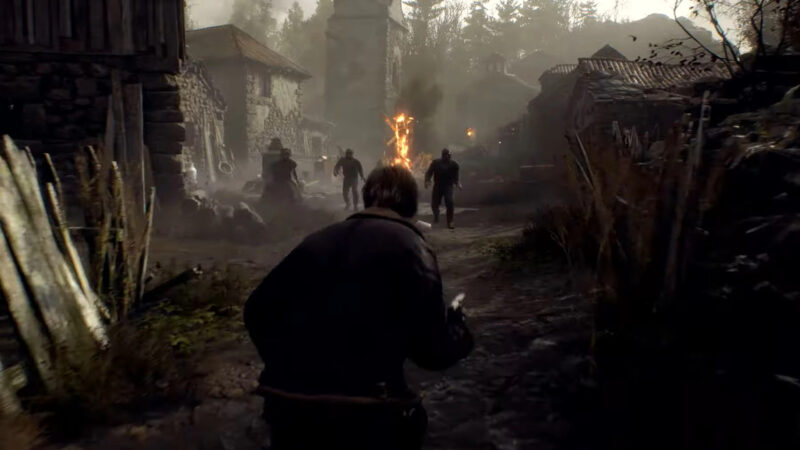 Resident Evil's October 2022 Showcase has just now wrapped up, and it was INSANE.
While Resident Evil 4 was the clear standout, we'll start at the beginning, with Resident Evil Village: Gold Edition. Starting with an all-new a new trailer teasing a little more of Shadows of Rose's story, we get to see what looks like a new creature and some more exploration of this dreamscape version of Castle Dimitrescu. Following the trailer, the Showcase went into more detail about what to expect, revealing that we'll be revisiting the standout House Beneviento segment, with some sort of new "giant doll" themed section. As a final note on Gold Edition, it was announced that a demo for Third Person Mode would be made available later today.
Following this up, we got our first new footage of Resident Evil RE:Verse in over a year, showcasing the addition of HoundWolf Squad, new power-ups, and a bunch of cosmetics, along with maps based on RE7 and Village. Along with this, it appears the game is dropping the "comic book" filter from the Beta, which I personally think is for the best.
As mentioned before, however, the real standout here is Resident Evil 4 REmake. We ate good during this stream, showcasing an extended gameplay sequence of the opening "demo" Los Pueblos area, and an all-new trailer giving us our first looks at Ada, Luis, The Merchant, Salazar, and hooded cultists. We also got first looks at things like the Merchant's shop, items (using classic RE4 ammo boxes and more), and a new parry mechanic that looks amazing. Balancing between horror and the original RE4's more tongue in cheek tone, the remake is blowing me away and I don't think my hype is going to die down until the thing is in my hands. We also got our first look at the collector's edition, as well as pre-order bonuses.
I'll be doing a detailed breakdown of REmake 4's new gameplay and trailer over on my Twitter, so stop by for a look later tonight! Until then, Resident Evil Village Gold Edition/RE:Verse release on October 28th, and REmake 4 releases on March 24th 2023.