Wake Up: Returning to Bright Falls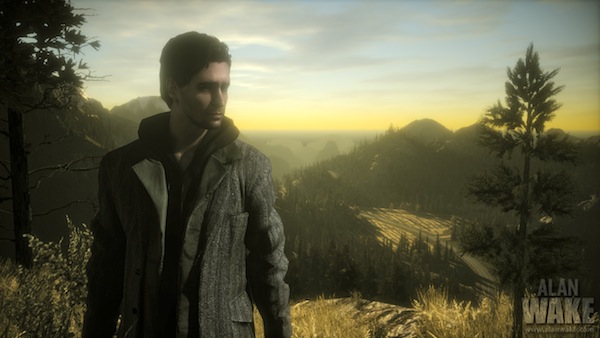 I'll always cherish my first venture into the town of Bright Falls. Coming to me in the way of the web series named after the town itself (which I highly recommend to any fans of the series that have yet to see it), I could tell that this was going to be something special, but with a tight budget, I wasn't entirely ready to drop 60 bucks on this game, Alan Wake. Unfortunately for my wallet, that soon changed.
With the town shrouded in mystery, I was drawn in by the main character of the web series, a writer named Jake, but I found myself coming back for the aura of the town itself, as well as its residents. After buzzing through all 6 episodes, my choice was made for me. I knew at the moment that I'd finished the very last one; I had to get my hands on this game.
"Welcome to Bright Falls," the sign beckoned from the bridge as the ferry passed under it. Only two weeks till Deer Fest, one of the oddest things I've ever heard of, and yet somehow found myself looking forward to. The charm doesn't even wait for me to get to dry land, as I'm introduced with a warm, yet awkward welcome from the town's local celebrity radio personality, Pat Maine. Somewhere between that ferry ride, and the instant Alan Wake set foot in the "Oh Deer Diner," I fell in love with the wonderful little town of Bright Falls. I couldn't help recall memories of Twin Peaks, the similarly wooded logging town in the Pacific Northwest that also seemed to have a bit of darkness surrounding it. With its own fair share of quirky characters, Bright Falls was a place that I enjoyed my time in, needless to say.
With some of the most breath taking visuals I've ever laid eyes on, the hilly mountain tops and lush green forests I traversed as Wake were an absolute delight, I felt as if I could smell the fresh air. Not lacking in diversity, you really get a feeling for the town's spirit as you pass through its heart, as well as the town's beloved Deer Fest. From Alan's biggest fan, Rose, a waitress at the "Oh Deer Diner," to Dr. Hartman and his clinic at the Cauldron Lake Lodge, the game'bs characters truly bring the town to life while injecting lively drama into every scene. Each set piece was brimming with these memorable characters, which were just as much of the story as Alan Wake himself. In terms of how important a setting is to a video game, I believe Bright Falls, I believe it truly allowed for the quality of storytelling delivered in Alan Wake; so much so, that I would even compare it to another favorite in Silent Hill.
With the fond memories I'd built during my time in Bright Falls, I had high hopes on my first play through of American Nightmare, thinking that Night Springs would deliver much of the same. As I write this, I find myself struggling to recall just about anything about that game's setting, and it's near impossible. All I can seem to remember are those same three locations that I felt forced to play through even a second time, let alone a third. Exploring these short, nameless "levels," with not a single character that I can remember, it made me crave the imaginatively detailed scenery of Bright Falls once more.
With my possibly wishful thinking, I can't help but think that it's only a matter of time before the second installment of the Alan Wake series is officially announced, and with that, I can only hope that the upcoming game, set in a town called "Ordinary," will have just as much of an immersive environment as the first. A few characters will undoubtedly follow the "Champion of Light" on his latest journey through the night, but one can only hope that this new town will be filled with anything but Ordinary characters for us to sink our teeth into.