UPDATE: First Look at Resident Evil Film Reboot's Lisa Trevor Makeup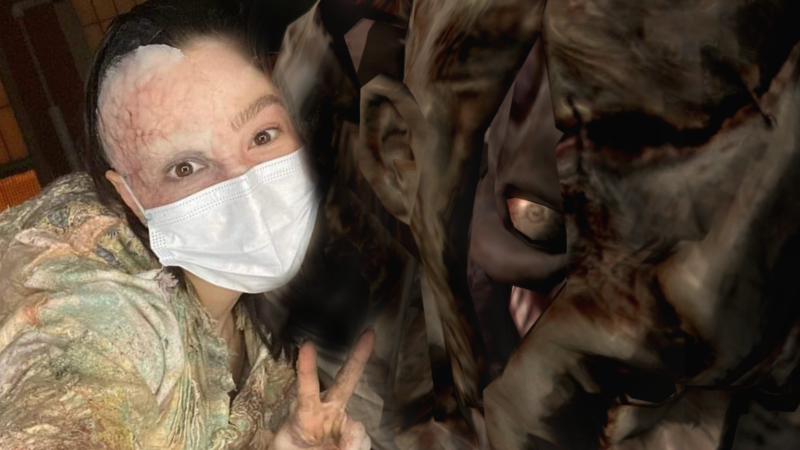 Update: It's been brought to our attention that one set of these photos, the ones depicting performer Marina Mazepa wearing prosthetic hand makeup, are in fact not for Resident Evil but for a different film project entirely. We've edited the article accordingly. Thanks to EvilHazard on Twitter for the head's up!
It's been a little while since we've had a real update on the new Resident Evil motion picture, Resident Evil: Welcome to Raccoon City, or at least one that wasn't just that it'd been delayed again. Unconnected to the previous six films, Welcome to Raccoon City seeks instead to adapt the first two Resident Evil games into a single story, starring a cast made up completely of games characters: Chris, Jill, Leon, Claire, and many, many others. We haven't seen much of the cast in action yet, but we have seen a host of remarkably faithful sets and props, with the R.P.D. station being a massive highlight in dedication to game accuracy. One other massive get for the film is the inclusion of one of Resident Evil's most tragic creatures, Lisa Trevor — the bulletproof monster that lurks in the woods in REmake.
We've previously seen the stunt performer who will be playing Lisa, Marina Mazepa, showing off having a full head cast taken as well as some of the stunts planned for the film, but now we've finally gotten a peak at what Lisa herself will look like. Lisa in-game has perhaps the single most disturbing appearance of any of the series' creature features, wearing a cowl made up of the stitched-together faces of female Umbrella researchers she singled out and murdered. A pretty gruesome turn from the big grey naked dudes the series is mostly known for. Thankfully, it appears that the film won't be skimping on her look, as this new image suggests.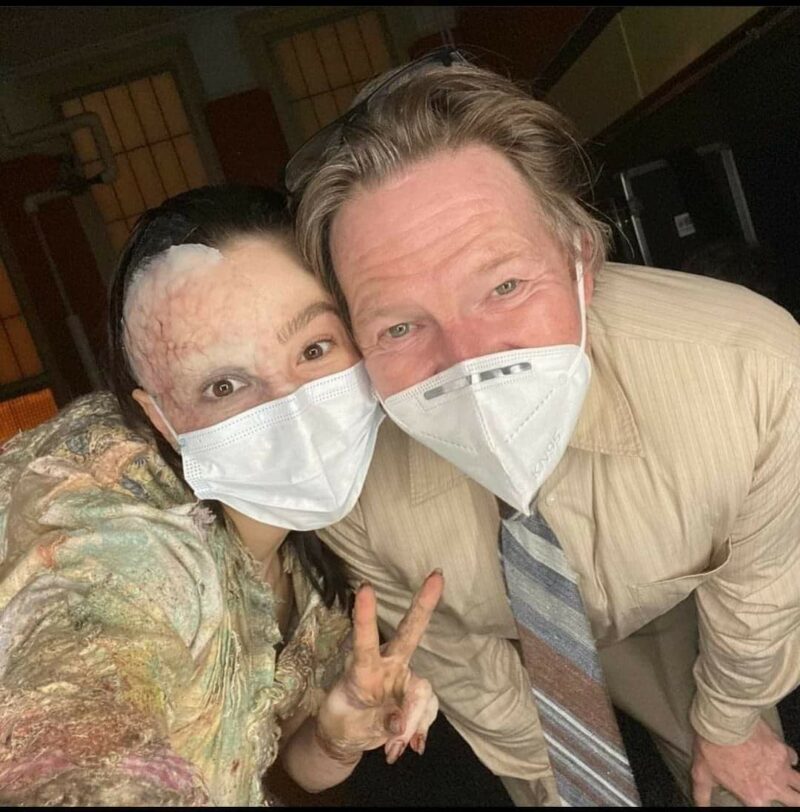 Here we can see Mazepa posing for a selfie with actor Donal Logue (who is portraying RPD chief Brian Irons) wearing what appears to be a partial flesh shawl, along with a mild facial prosthetic. That facial prosthetic is the element here that makes me the most excited, as it would seemingly indicate that the flesh cowl is indeed part of her look (as the made-up part of her face is the only part that's exposed in the original design). While her face isn't quite the skull-like look of her game counterpart, odds are that either they'll be touching it up more with CG, or they're leaving her face more humanoid so she can remain more sympathetic. In-game we have diaries and lore piled up everywhere to explain who she is and why we should care; a movie only has so much time to spell out how tragic she is to an audience that's probably wondering where Mila Jovovich is.
It's also worth noting the background to this photo, which has a very real chance of being our first look at the interior of the R.P.D. (as the plots are blended together, Lisa might make it all the way from the mansion to the city proper now).
That's all for now, but hopefully, we'll be seeing a trailer soon as the film is releasing in just a few months on November 24th.