Review: Resident Evil: Retribution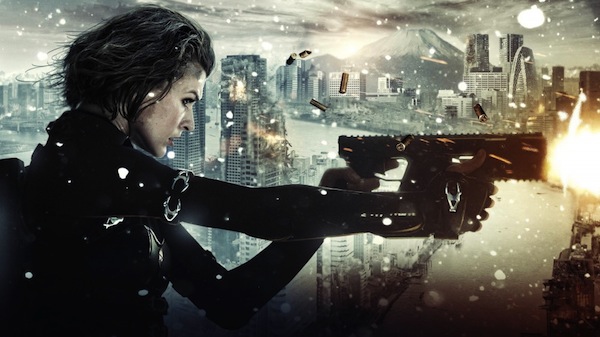 Resident Evil: Retribution is now out in theaters. Milla "My name is Alice" Jovovich is, once again, back for the fifth film in the series. And as you can imagine, it's in 3…D!
I know how many of you feel about Paul W.S. Anderson's live-action films "based" on the immensely popular survival horror series. But you know what? Retribution was quite a good time from beginning to end, and it's one of my favorites from the live-action film series (my absolute favorite Resident Evil film is now Damnation, but you're going to have to wait for my review of that to find out why!).
Retribution opens up with quite a neat scene picking up from the end of Afterlife. The way it actually plays is what makes it so awesome, set to the film's superb theme song (which is definitely going on my iPod). As you can imagine, we start getting all the 3D-ness right from the get-go, but it honestly didn't bother me whatsoever. I viewed the film in IMAX 3D and I never had an issue with the 3D effect. It didn't hinder the experience at all and it was used quite nicely in certain scenes.
Judging by the film's trailers, I though the plot would be confusing and hard to follow, but that really wasn't the case at all. It's surprising to see deceased characters like Rain and One making a comeback, but it all makes sense once you realize what Alice is dealing with here.
The whole film is basically a video game of sorts. With Alice going from level to level in a secret facility owned by Umbrella, with levels simulating actual locales around the globe (like Russia and Tokyo). It's a pretty neat way of telling the story, and I enjoyed some of the classic survival horror parts like Alice needing to find an object to break into a cop car in one of the levels. I'm not saying the film is scary, just that progression was handled pretty nicely.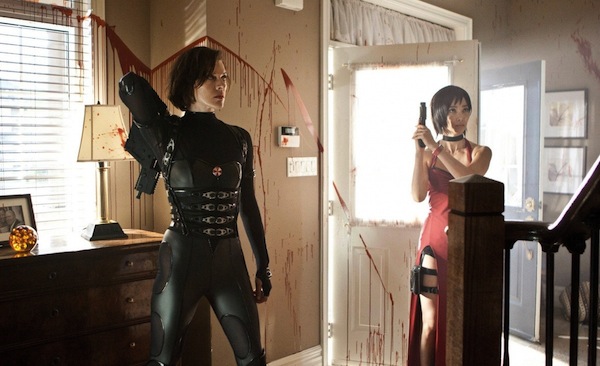 Retribution brings forth some new characters as well. For us Resident Evil fans, they aren't actually "new," but it's the first time they're on the big screen getting the live action treatment. Of course I'm talking about Ada, Barry and Leon.
When the first images came out for each character I was super excited. Leon had his Resident Evil 4 costume but looked a little different when it came to his face. Barry looked like a younger version of himself from the games. And Ada looked absolutely spot on, down to the design of her Resident Evil 4 dress. But how did the actors actually play their roles?
Ada could've been handled a little better, acting-wise. She didn't really come off as the sassy woman in red we all love, but that wasn't entirely a bad thing. Li Bingbing was able to pull off some neat stunts that definitely screamed Ada Wong, and as aforementioned, her appearance was spot on. I really loved her first encounter with Alice seeing as how it played out like Leon and Ada's first reunion in Resident Evil 4. And she had her grappling hook!
Leon and Barry on the other hand were pretty good on screen. It was downright awesome seeing the two work together and Johann Urb really did a good job playing Leon. His costume was spot-on and he acted pretty much how Leon would. Even showing care for Ada in one particular scene. And speaking of Ada and Leon, there's one scene late in the film that's an extremely nice call-back to a particular moment late in Leon's B scenario from Resident Evil 2 (I screamed). And what can I say about Barry? Kevin Durand played a nice, younger version of the man with the epic beard and I totally started going nuts once he used his beloved magnum.
As far as the new faces go, there was a good amount of moments interspersed throughout that will definitely appeal to fans of those characters. They may not be 100% faithful to their video game counterparts, but the actors each did a fine job in portraying them. And the ending, oh man, the ending. I'm surprised to find myself saying this but I really can't wait for the next film, which is shaping up to be the last in Paul W.S. Anderson's series.
Retribution is definitely worth a watch, whether in 3D or not. It's highly enjoyable and in the end that's what matters when we go to the movies, right? It's also really nice to see beloved characters from the series finally make the jump to the big screen, albeit somewhat altered in terms of interpretation. The action is top-notch and enemy designs are superb with some blood-pumping set piece moments throughout (like a certain car chase scene). The film definitely has its flaws, which has plagued the entire film series, but I definitely enjoyed it. Will it change the minds of fans who already hate the series? Definitely not. But they should be happy to know that this film series look like it's going to end with the next one, with a possible REboot looming in the future.
7/10