Spicy Horse brings Grimm to Spicyworld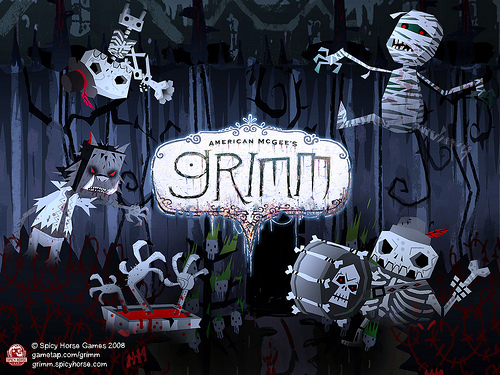 Ever heard of American McGee's Grimm? It's an episodic franchise that was originally featured on GameTap and it wasn't received very well from what I understand. I haven't played it myself, though, but maybe I will now that the franchise has appeared on Spicyworld.
The games are already available on the service, which is handled completely by developer Spicy Horse. Each episode costs $1,30, but volumes are available for $8 each and the whole franchise can be purchased for $20. Normally I would tell a little about the game, but today I am going to let the marketing blurb do the work for me:
"In "American McGee's Grimm," the player takes control of a dwarf named Grimm on a mission to turn the sweet fairy tales of today into the far-darker tales they were originally. Grimm spreads darkness wherever he goes using sophisticated moves like a butt-stomp, while the denizens of each fairy tale try to keep things as sickly saccharine as possible.
Originally released for Gametap, "American McGee's Grimm" features the unique dark fairytale aesthetic American and Spicy Horse are known for with a slyly subversive take on classic fairy tales, inverting the family-friendly stories known and loved to their far darker original incarnations."
Have you played it before and can you recommend playing (or avoiding) it? Feel free to tell us in the comments!
[Source]