New footage from Castlevania: Lords of Shadow – Mirror of Fate shows Gabriel in action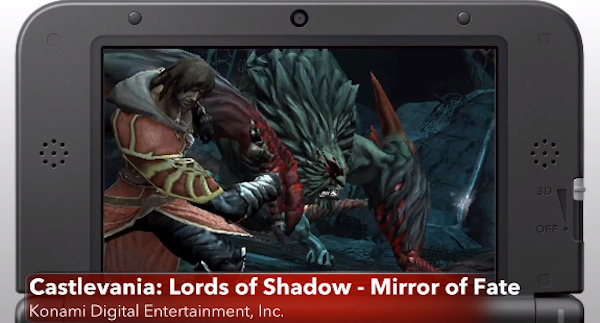 Nintendo has released a new sizzle reel showing off upcoming 3DS titles. Amongst the games shown was none other than Castlevania: Lords of Shadow – Mirror of Fate (always a mouthful!). We actually get some new footage from the game, and it starts at the 1:24 mark.
Fans won't have to wait until Lords of Shadow 2 to get to play as Gabriel Belmont once again. He was revealed as being Mirror of Fate's fourth playable character, joining Trevor, Simon and Alucard.
Here's a bit of speculation (I'll go more in-depth in a future article). Here we see Gabriel with the combat cross still in his possession, but *says in Dracula's voice* how can this be?! Especially after he crushed it at the end of Lords of Shadow's Resurrection DLC. Well, there might be some time travel involved here, with Gabriel possibly trying to go back and stop himself from becoming the monster he's fated to become. Or perhaps, he just gets a new combat cross and his portion of Mirror of Fate picks up directly after the Resurrection DLC. What do you guys think?