Deadly Premonition: Director's Cut becomes a little more real (Update 2: March 15th release)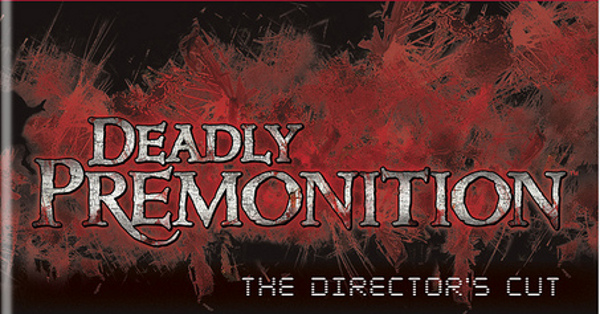 The Playstation Blog has finally pulled the lid off of the Deadly Premonition re-release! No images of the game have been released, but word that it still exists is comforting. Rising Star Games seem to be the publisher for the North American and European releases.
Deadly Premonition: Director's Cut contains HD graphics (they weren't that bad), new controls, a new scenario, and DLC support.
It's good to see the game finally get a mention. I expect marketing and material to release very soon! If you have yet to experience the brilliance that the original game is, for whatever reason, definitely look into picking this re-release up. Now we wait for a release date and pricing. Wee!
Update: Rising Star Games has released the press release for the upcoming game. Deadly Premonition: Director's Cut is set to release in the first quarter of 2013 exclusively for the PS3.
Update 2: According to the Rising Star Games website, expect the game to release on March 15th, 2013.
[Source]
Return to Greenvale This Winter With Deadly Premonition: The Director's Cut

New Content From Game Director Coming Exclusively To PlayStation®3 system

Tuesday October 16, 2012 – Publisher Rising Star Games today announced that the cult phenomenon hit, Deadly Premonition: The Director's Cut, will be released in Europe and US Q1 2013 exclusively for the PlayStation®3 computer entertainment system. High-definition graphics, fresh content and updated controls provide a whole new, memorable gameplay experience for diehard fans and newcomers alike.

Playing as special agent Francis York Morgan (just call him York – everyone else does), players must investigate the brutal murder of a young local beauty. Amidst the backdrop of soaring mountains and a small American town, York must solve the mystery of the Red Seed Murders and stay alive in a place where supernatural creatures and a killer seek to end his investigation.

The award-winning suspense-horror, action-adventure game gives players an open-world experience featuring detailed interactions with Greenvale locals, as well as numerous side quests and mini games to help solve the murders and uncover hidden town secrets.

"Love it or hate it, Deadly Premonition has been a phenomenon; 'cult' does not begin to do its success justice," said Martin Defries, Managing Director of Rising Star Games. "With the enhancements Swery and his team are making to this new PS3™ version, I am delighted to confirm Rising Star Games involvement with this fantastic game that should engage fans new and old alike."

"I'm very happy Rising Star Games gave me the chance to work on Deadly Premonition: The Director's Cut," said Hidetaka 'Swery' Suehiro, director of Deadly Premonition. "It's been a while since Deadly Premonition was released, but I'm still receiving so many messages of support from fans around the world. I'm writing some exciting new scenarios and adding some new features. All will be revealed over the coming months and I'm confident I can deliver an unforgettable experience for you all."

Deadly Premonition: The Director's Cut includes the following new features:

• New scenario from the game's director, Hidetaka "Swery" Suehiro
• HD graphics
• Reworked control system allowing for an even better combat experience
• Downloadable content to expand the mystery beyond the original game

For more information on all RSG titles, please visit the official site: www.risingstargames.com